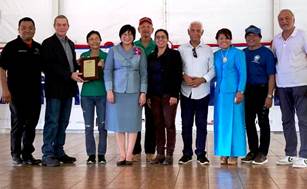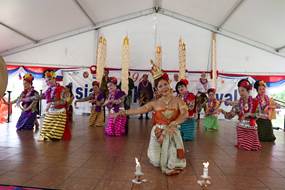 (From L-R) AAAB Program Director Joshua Ho, OoCA Executive Director Rene Diaz, AAAB Member Josephine Gordy, Royal Thai Embassy Minister and Chief of Mission Honorable Ma. Boosara Kanchanalai, AAAB Member Manny Wong, Miami-Dade Parks Director Maria Nardi, AAAB Chair Sadrul Fasihi, Asian Culture Festival Executive Producer Tai Vaz, AAAB Member Nick Vicera, and AAAB Former Member Shawn Khosravi. Right photo: Kai Whitcomb, Thai Dance Troupe of Miami
MIAMI – The two-day 29th Annual Asian Culture Festival coincided with the 90th anniversary of the Miami-Dade Parks, on March 2-3, 2019. More than 10,000 people celebrated the diversity of the Asian cultures through an enchanting journey of music and dance, performances, demonstrations, arts, and hand crafts, highlighted by a tasty selection of authentic Asian cuisine at the Fruit and Spice Park in Homestead.
Some notable participants were from the Consulate General of the Republic of Turkey in Miami, the Royal Thai Embassy in Washington D.C., the Consulate General of Japan in Miami, Taipei Economic and Cultural Office in Miami, County Commissioner Daniella Levine Cava, a representative from the Office of County Commission Chairwoman Audrey M. Edmonson, and Miami-Dade Parks Director Maria Nardi.
The event promoted cultural enrichment opportunities for all visitors and residents of Miami-Dade County. It was co-hosted by the Miami–Dade Asian-American Advisory Board (AAAB), under the Office of Community Advocacy, the Miami-Dade Parks, Recreation & Open Spaces Department, and the Thai-American Association of South Florida.
If you would like to learn more about the Asian-American Advisory Board, contact Director Joshua Ho at 305-375-1570.
The Office of Community Advocacy is charged with making Miami-Dade County "One Community" that embraces our diverse and unique population. Follow @AdvocacyMDC on YouTube, Facebook, Instagram, and Twitter and follow @mdcaaab on Instagram, Twitter, and Facebook.