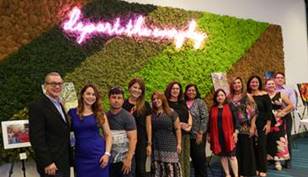 (From L-R) Office of Community Advocacy Executive Director Rene Diaz and Hispanic Affairs Advisory Board Director Natalie Milian photographed with the participating artists
MIAMI – As part of the Miami-Dade County Hispanic Heritage Month celebrations, the Hispanic Affairs Advisory Board (HAAB) and Brightline (soon-to-be Virgin Trains USA), collaborated to showcase a Hispanic Art Exhibit at Virgin MiamiCentral Station. The exhibit featuring over 21 Latin American artists was on display in the Select Lounge from Oct. 15 through Nov. 4.
The participating artists were: Consuelo Ramirez, Gladys Velez, Hugo Lastre, Jaime Mora, Jovani Alzate, Juan de la Cruz, Libia Pulido, Ligia Patricia Guerra, Liliana Mendez, Lilo Perez, Maria Elena Elvira (Manena), Marco Velasquez, Maria-Pilar Geada, Nereyda Ruiz, Norha Campillo, Piedad Lucia Hoyos, Ruth Salas, Sandra Barbieri, Sandra Noack, Silvia Sevilla, and Yei Duran. To view a video of the paintings, visit https://bit.ly/2qBbTTU.
For more information or to learn more about the activities and events of the board, please contact Hispanic Affairs Advisory Board Director Natalie Milian at 305-375-5098. The Office of Community Advocacy is charged with making Miami-Dade County "One Community" that embraces our diverse and unique population. Follow @AdvocacyMDC on YouTube, Facebook, Instagram and Twitter. Follow @MiamiDadeHAAB on Facebook and Twitter.