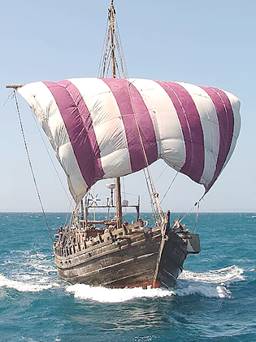 MIAMI – The Office of Community Advocacy supports the educational component Shake-A-Leg Miami, a 501(c) (3) organization, offers to the community. In this occasion, a replica of a Phoenician ship will dock at 2 p.m., on Monday, February 10 at the Shake-A-Leg Miami Marina, 2620 S Bayshore Drive, Miami, FL 33133. The ship's location can be tracked here. A fanfare will greet the 67-foot wooden sailboat at 10 a.m., including a flotilla escort along Biscayne Bay as it travels south past the Miami skyline. There will also be a fireboat water salute.
The sailboat was in a five-month and 6,000-mile maiden voyage across the Atlantic Ocean. Shake-A-Leg Miami is a relevant port of call for the history being created by the Phoenicians Before Columbus Expedition. "It's an exciting moment for all of us," said Harry Horgan, founder and CEO of Shake-A-Leg Miami.
Shake-A-Leg Miami Watersports Center is a unique place where children and adults, many of whom are not only people living with a disability, but also financially disadvantaged, are able to improve their social skills, make new friendships, and increase their self-confidence through targeted programs.
The educational component of activities with local schools lasting a week-long is sponsored by the Anthony R. Abraham Foundation. The Phoenicians were known for their seamanship, which is among the skills taught at Shake-A-Leg Miami," said Thomas Abraham, chairman of the Anthony R. Abraham Foundation. "The success of this voyage clearly proves it was possible for the ancient civilization to sail the Atlantic and reach the Americas 2,000 years before Columbus."
The Phoenicians, who occupied modern day Lebanon and the coastal areas of Syria and Northern Palestine, were recorded for their sailing abilities and credited with inventing the keel, the battering ram on a ship's bow, and caulking between planks. The expedition is endorsed by the Ministries of Information and Tourism of the Republic of Lebanon. The project was designed with the help of the U.S.-based Phoenician International Research Center.
The Office of Community Advocacy is charged with making Miami-Dade County "One Community" that embraces our diverse and unique population. Follow @AdvocacyMDC on YouTube, Facebook, Instagram, and Twitter.