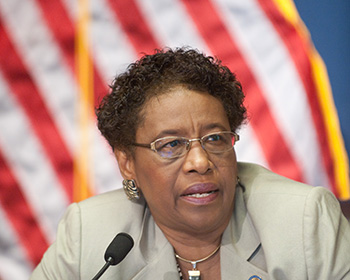 Known for her outspoken leadership, Barbara J. Jordan was born in New York City but grew up in South Miami-Dade, where she learned the value of hard work, sometimes working in the bean fields with her family. She attended a segregated public school system and subsequently graduated from Arthur and Polly Mays High School in Goulds. In 1965, she received a Bachelor of Arts degree in English with a minor in Psychology from Morris Brown College in Atlanta, Georgia. In 1986, she received a Master of Science degree in Human Services from Nova Southeastern University in Davie, Florida.
Over the next 34 years, Jordan would enjoy an illustrious career with Miami-Dade County, starting with Head Start. As a Public Administrator, she was responsible for the creation of a number of programs and organizations that helped to empower young people and prepare them for future economic independence through employment opportunities. One of her proudest professional achievements was the formation of the Greater Miami Service Corps, a program that helps troubled youth to realize their potential, return to education, secure employment, and achieve self-reliance.
In 1997, Jordan was appointed Assistant County Manager, serving in that capacity for seven years. In that role, she oversaw county departments that promoted social and economic independence and addressed complex social issues. Some of those departments included the Miami-Dade Housing Agency, the Office of Community and Economic Development, the Department of Business Development, Metro-Miami Action Plan, Consumer Services, Human Resources, Community Action Agency and the Department of Human Services.
In 2004, she was tapped by outgoing Commissioner Betty Ferguson to run for the Board of County Commissioners. In spite of being virtually unknown communitywide, Jordan was able to defeat a former mayor and state legislator by more than 20 percentage points.
As Commissioner for District 1, she has proudly represented the cities of Opa-locka and Miami Gardens, as well as unincorporated communities that include California Club, Ives Estates and Country Club Lakes.
In 2007, Jordan was elected by her colleagues to serve as Vice-Chairperson of the County Commission and Chair of the Transit Committee for a two-year term. Now completing her sixteenth year, Jordan has championed several issues facing minorities and the underprivileged. She has been a leader in the areas of affordable housing, small business development, and children and senior programs while fostering continuous economic development within her district. Since taking office, she has directed the infusion of more than $70 million in construction and infrastructure projects including road resurfacing, drainage improvements, sidewalk installation, speed calming devices, road beautification, affordable and elderly housing and home rehabilitation and beautification programs. She has also provided resources for the creation and development of the Opa-locka Branch Library, the restoration of the historic Opa-locka City Hall and a $5 million allocation to Florida Memorial University for the construction of a Multi-Purpose Arena. Her leadership has also fostered more than $500 million in public and private investments at Miami-Opa-locka Executive Airport, including the $150 million Carrie Meek International Business Park, which is home to the new Amazon Fulfillment Center. As commissioner, she also has sponsored numerous community events that celebrate the rich culture and diversity of District 1, including the Black Heritage Festival and Hispanic Heritage Festival. Other events that she has sponsored are the Foster, Adoptive, Kinship & Independent Living Commemorative Ceremony, Valentine's Day Dance for Seniors, the Music in the Park jazz concert series, Summer Youth Internship Initiative (SYII), Thanksgiving Turkey Giveaway, Holiday Toy Giveaway, and small business workshops.
Commissioner Jordan's presence in the community garners many requests for speaking engagements. In 2012 she delivered the Spring Commencement address to Florida Memorial University's largest graduating class. President Henry Lewis III presented Commissioner Jordan an Honorary Doctorate in Humane Letters.
Throughout her exemplary career, Commissioner Jordan has been able to balance her life with strong family support. She was married to her husband Eddie, who passed away in 2017, for over 50 years. She has two adult daughters, Gidget and Winnie; six grandchildren, Neffeteria, Elijah, Jeremiah, Gabrielle, Jamie, and Kerri; and two new great grandbabies, Amy Naiema and Trayvon Jr.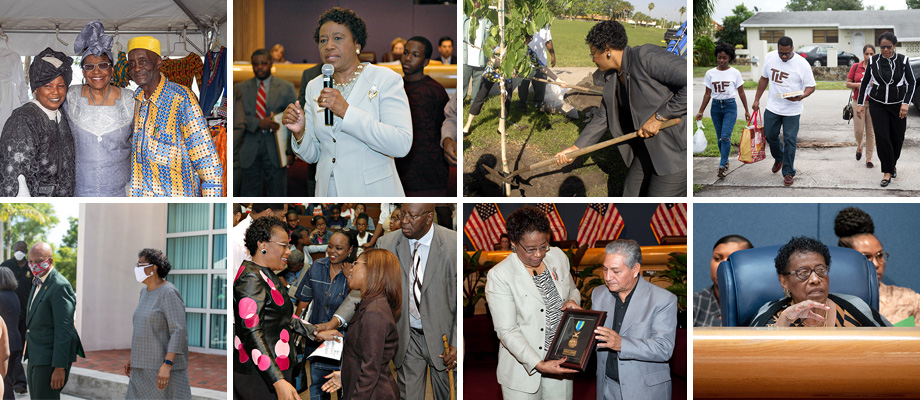 DISTRICT 1 HIGHLIGHTS
Sponsored an ordinance to create an Independent Civilian Panel to review resident complaints of police misconduct.
Sponsored legislation which provided $5 million to Florida Memorial University to construct a state-of-the-art multipurpose arena.
Sponsored legislation creating the Miami-Dade County Youth Commission to address the needs of young people in the community and make recommendations to the County Commission.
Created the Workforce Housing Development Program ordinance to provide developers substantial density bonuses in exchange for additional workforce units or an allocation to Miami-Dade County's Affordable Housing Trust Fund to assist the County in acquiring, constructing, and rehabbing more workforce housing units in Miami-Dade County.
Sponsored legislation extending the County's Living Wage protections already enjoyed by County contract workers to employees of concessionaires at Miami International Airport. The County's living wage is defined as $15.52 an hour for employers not offering benefits, or $12.63 an hour with a qualifying Health Benefit Plan valued at no less than $2.89 per hour.
Created a Medal of Valor award to be presented to families of military members killed in action or on duty.
Fostered more than $750 million in public and private investments at Miami-Opa-Locka Executive Airport, including the $150 million Carrie Meek International Business Park, which is home to the new Amazon Fulfillment Center.
Sponsored legislation to partner with the Orange Bowl Committee to attain a multimillion dollar legacy gift for the installation of a new synthetic turf field, new scoreboard and drainage system at Ives Estate Park in her district.
Established a SWAT Medic position in order to have trained personnel in tactical medicine during high-risk operations in the community.
Created the Summer Youth Internship Initiative, an 8- to 10-week program giving students the opportunity to earn money while gaining valuable experience in County government and the private sector.