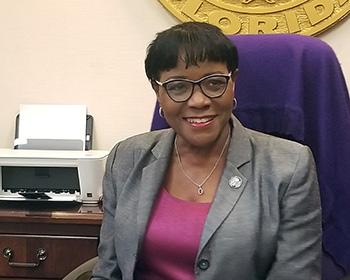 Known as a Commissioner who gets things done, Audrey M. Edmonson has represented District 3 since December 2005 and was unanimously elected by her colleagues to serve a two-year term as Chairwoman for 2019-20. She previously served as Vice Chairwoman from 2016 to 2018 and from 2010 to 2012. Prior to joining the Commission, she served as Mayor of the Village of El Portal.
As a Commissioner, Edmonson has proudly represented the communities of Liberty City, Little Haiti, Overtown, the Upper East Side, Edgewater, Buena Vista, Allapattah, Wynwood, San Marco Island and Watson Island, along with Brownsville, Biscayne Shores Park, the Village of El Portal and the Village of Miami Shores.
Since her arrival on the Miami-Dade County Board of County Commissioners, Chairwoman Edmonson has successfully championed a wide range of issues to improve residents' quality of life, including taking on such issues as gun violence, affordable and workforce housing, pool safety, crane safety, combating the scrap metal and copper wire theft epidemic, addressing disparities in County contracting and small business programs, promoting local hiring, securing an $830 million bond for the Jackson Health Care System, expediting the procurement process, and obtaining funding to renovate the Historic Hampton House Motel.
Born and raised in Liberty City, Edmonson received a bachelor's degree in Psychology from Florida International University and a dual master's degree in Marriage and Family Therapy and Mental Health Counseling from Barry University. She became active in local politics by first serving as Mayor of the Village of El Portal in 1999, was re-elected three successive terms and became the municipality's first mayor to be elected by residents rather than by the members of the Village Council. Under her leadership, the Village hired its first Village Manager.
Edmonson was appointed to the Miami-Dade County HIV/AIDS "Getting to Zero" Task Force and served as Chairwoman of the Florida Department of Transportation (FDOT) I-395 Signature Bridge-Aesthetic Steering Committee. She also serves on the Miami-Dade Economic Advocacy Trust and the Public Health Trust nominating councils, the Jackson Health System General Obligation Bond Citizens' Advisory Committee and the County Advisory Task Force for the Byrne Criminal Justice Innovation Program Planning and Implementation Project which is referred locally as Project PEACE: People Engaged and Advocating for Community Empowerment. Chairwoman Edmonson serves as the Chair of the International Trade Consortium.
Chairwoman Edmonson championed the establishment and is an Ex-Officio Member of the Miami Children's Initiative (MCI), a program modeled after the Harlem Children's Zone, aimed at helping Liberty City children from cradle to adulthood. Joined by local pastors and community activists, Chairwoman Edmonson leads "Operation Restoration," an anti-crime strategy group. She also serves as a member of the Lindsey Hopkins Educational Excellence School Advisory Council. In 2007, as Miami-Dade County's representative for the Miami-Dade County Sister Cities Program, Chairwoman Edmonson signed an agreement with the City of Cape Town, South Africa and the City of Dakar, Senegal establishing Sister City ties and thus fostering trade and cultural exchanges.
Edmonson also has served as Vice Chairwoman of the Miami-Dade Expressway Authority (MDX) Board of Directors and as a member of the Homeless Trust Board of Directors. Chairwoman Edmonson also serves as a member of a number of organizations including the National Association of Counties and the Florida Association of Counties' Board of Directors. Chairwoman Edmonson is a member of the Board of Directors of the Adrienne Arsht Center for the Performing Arts of Miami-Dade County. She is also a proud member of Delta Sigma Theta Sorority, Inc., The Links Inc. and Just Us.
Chairwoman Edmonson is the mother of Dr. Ebony Nicole Dunn and Louis Ivory Edmonson and grandmother of Bianca Alexandria Casher, Lorilai and Louis Jr. Edmonson.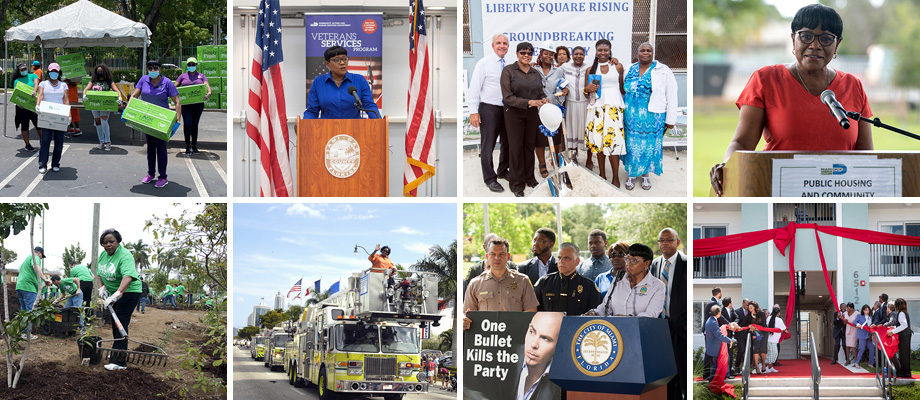 DISTRICT 3 HIGHLIGHTS
Successfully combated the scrap metal and copper wire theft epidemic by amending the County ordinance related to scrap metal processors and junk dealers to increase penalties for the illegal purchase of scrap metal
Directed the County administration to secure a firm to conduct a full disparity study of black, Hispanic and women-owned business participation in County contracting with data to be collected in a centralized and consistent manner in a cross section of trade areas.
Sponsored legislation to create the $2 million Group Violence Intervention initiative to clamp down on gun violence, with a "boots on the ground" approach targeting high-crime areas with positive male role models, warnings about the consequences of further violence, and a genuine offer of help and employment assistance for those who want it.
Championed legislation to ensure funding and construction of the Liberty City Rising redevelopment project, a mix of 1,455 public housing, affordable housing and market-rate units, along with shops, parks and community facilities.
Revamped the County's Small Business Programs, which had not been updated in 10 years, to make them more effective for small and minority owned businesses.
Increased contractor monitoring and compliance programs to ensure local hiring.
Successfully fought for the adoption of pool lighting safety measures that were implemented statewide.
Sponsored legislation to have mail-in ballot request applications sent to all Miami-Dade households with voters who hadn't requested one and to expand ballot drop-off locations.
Expedited the procurement process to ensure the County runs more efficiently; and directed the administration to report on further measures that can be taken to shorten the County's overall procurement timeline.
Established safety measures for manufacture, installation, and use of cranes and hoisting equipment including hurricane preparedness measures.