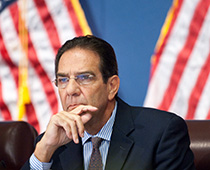 A genuine "idea man," Xavier L. Suarez was elected to serve on the Miami-Dade County Commission as District 7 Commissioner on May 24, 2011, representing numerous municipalities including the City of Miami, the Village of Key Biscayne, Coral Gables, South Miami, and Pinecrest.
Commissioner Suarez was born in Las Villas, Cuba in 1949 and has lived in Miami since 1975. He attended Villanova University on a Presidential Scholarship where he earned a bachelor's degree in Mechanical Engineering and graduated summa cum laude in 1971. Subsequently, in 1975, he received joint degrees: a Juris Doctor and a master's degree in Public Policy, from Harvard Law School and the John F. Kennedy School of Government at Harvard. He published a law review article on congressional immunities and performed a consulting study for the U.S. Environmental Protection Agency on the issue of performance standards for new sources of pollution.
Suarez served as Mayor of the City of Miami beginning in 1985 and was subsequently reelected in 1987 and 1989. During his tenure, he worked diligently towards the construction of affordable housing, prioritized community neighborhood improvements and received national praise for his effective handling of civil disturbances.
Suarez joined the Miami-Dade County Commission in 2011 and has focused on the issues of affordable housing and job creation by fostering a positive and supportive environment for current and future entrepreneurs and workers in various high-demand trades. Understanding that the children are our future, Commissioner Suarez also has spearheaded a number of innovative youth programs such as the Miami-Dade Youth Pre-Apprenticeship Career and Technical Training program, the Youth Summer Jobs Program, and the Envelopes of Safety afterschool program offering free STEAM activities to District 7 students.
Suarez also is the author of six books. The first, A Unified Theory of God: Mind and Matter, was published in 2005 by AuthorHouse. He is married to Rita Suarez and is the father of four children: Miami Mayor Francis Xavier, Olga Marie, Anna Teresita, and Carolina.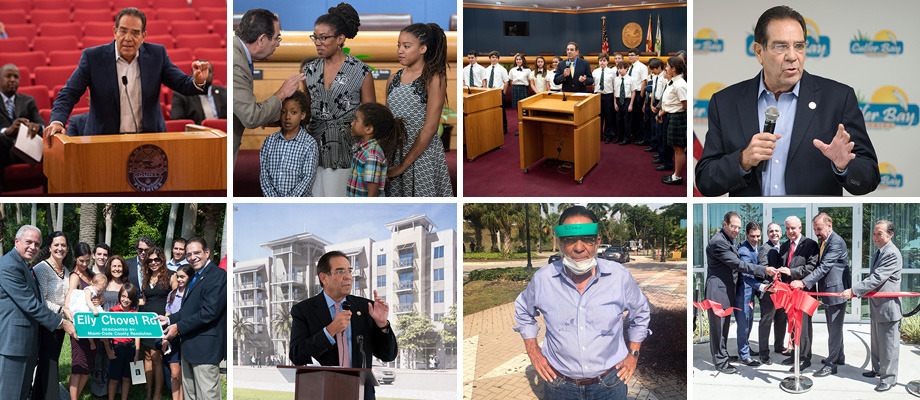 DISTRICT 7 HIGHLIGHTS
Spearheaded the Miami-Dade Youth Pre-Apprenticeship Career and Technical Training program, a partnership with the Florida Department of Education, CareerSource South Florida, Miami-Dade County Public Schools and 13 trades, in which local high school students participate in a paid summer internship before the 11the grade and then complete 150 classroom training hours per year during their junior and senior years, with the aim of getting students apprenticed to high-demand trades where they can earn while they learn.
Sponsored legislation creating the Youth Summer Jobs Program, directing the mayor to identify up to $2.5 million in funds and to partner with the Children's Trust.
Sponsored legislation seeking to restore the historic Coconut Grove Playhouse, which has been closed since 2006.
Sponsored an ordinance to establish a revolving loan fund from general fund revenue proceeds placed in the County's Affordable Housing Trust Fund.
Helped secure $9 million toward the construction and development of the Gibson Plaza affordable housing development to spur the rebirth of Coconut Grove Village West.
Partnered with the Miami-Dade Police Department to coordinate a series of dialogues to promote trust between the police and teens in Miami-Dade County following several high-profile incidents highlighting police-community conflict in a number of cities across America.
Sponsored a nonprofit academy to give small nonprofits providing services in District 7 the tools to grow and subsequently provided a matching grant to five nonprofits, $10k to each, that completed the series. NAMI Miami "Ending the Silence" was born out of this grant and is now being made available throughout Miami-Dade County Public Schools.
Created the Envelopes of Safety after-school programming in District 7 elementary, middle and high schools offering free STEAM activities. The program was created in 2016 after a shooting incident near Frances Tucker Elementary School and Commissioner Suarez has invested $175,000 in it since then.
Partnered with Hermanos de la Calle to provide supportive housing to people experiencing homelessness; provided $60,000 in discretionary funds and secured an additional $50,000 from the City of Miami and Downtown Development Authority to house 60 people.
Partnered with Miami Bayside Foundation to provide a series of free training seminars to help local entrepreneurs take their businesses to the next level.