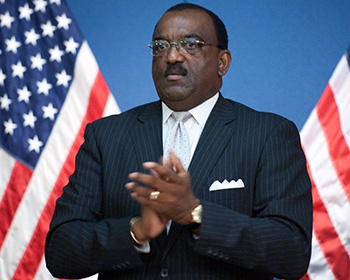 Known for his passion for public service and for keeping his promises, Commissioner Dennis C. Moss has served on the Board of County Commissioners for over 27 years, including as Commission Chairman in 2009-2010.
First elected in 1993, shortly after Hurricane Andrew, Commissioner Moss immediately focused his efforts on the recovery of South Miami-Dade. His tireless efforts resulted in a comprehensive plan to rebuild distressed and declining areas affected by Hurricane Andrew. Named in recognition of Commissioner Moss, the Moss Plan identified transportation improvements to South Dade as one of the key elements to economic revitalization in the area. Working closely with the Miami-Dade County Office of Community Development and other County departments and agencies, Commissioner Moss worked to extend the South Dade TransitWay to Florida City, while acquiring parcels for Park and Ride lots and transit-oriented affordable housing developments. Commissioner Moss also sponsored a resolution authorizing law enforcement and rescue vehicles to operate on the TransitWay.
Among his other accomplishments, Commissioner Moss helped save the Homestead Air Reserve Base after it was listed in the Base Realignment and Closure Commission (BRACC) as one of the bases to be closed. Commissioner Moss also advocated for bringing Jackson South Medical Center to South-Dade, the South Miami-Dade Cultural Arts Center, Schnebly Redland's Winery & Brewery, and the proposed Miami Wilds water theme park to ZooMiami. In addition, Commissioner Moss was instrumental in the creation of Team Metro, 311, and awarding more than 600 yearly grants to Mom & Pop small businesses. He has also served as the chair of Neat Streets Miami, formerly known as the Community Image Advisory Board, a County board dedicated to the maintenance and beautification of transportation gateways, corridors and connections.
A lifelong resident of District 9, Commissioner Moss has been actively involved in community affairs and has been appointed to serve on many boards, including the Community Action Agency, the South Dade Alliance for Black Neighborhood Development, and the Metro-Miami Action Plan Trust. Commissioner Moss also served for 38 years as the Executive Director of the Richmond Perrine Optimist Club, an organization that serves the community by developing programs for at-risk youth and disadvantaged families.
Commissioner Moss has served in the past as the honorary Chair of the Bahamas Sister Cities program, and Chairman of the Governmental Structure Task Force, which focused on helping the County identify efficient and effective government. Under the late Governor Lawton Chiles, Commissioner Moss was appointed to the statewide Land Use and Water Planning Task Force. He is also a former member of the South Florida Regional Planning Council, which identifies long-term challenges and opportunities facing Southeast Florida and assists the region's leaders in developing and implementing creative strategies that result in more prosperous and equitable communities, a healthier and cleaner environment, and a more vibrant economy.
Commissioner Moss is a 1974 graduate of Grinnell College in Iowa, where he earned a bachelor's degree in Economics. He is married to Margaret Hawkins-Moss and has three children.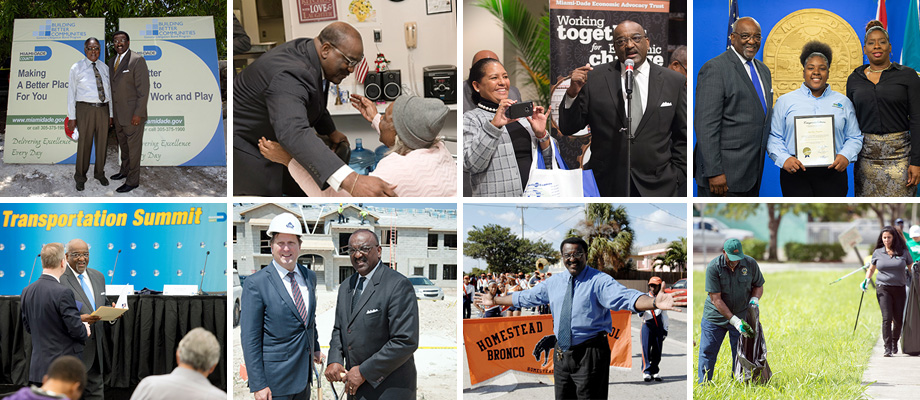 DISTRICT 9 HIGHLIGHTS
Helped save Homestead Air Reserve Base after it was listed in the Base Realignment and Closure Commission (BRACC) as one of the bases to be closed.
Advocated for bringing Jackson South Medical Center to South-Dade
Helped ensure the construction of the South Miami-Dade Cultural Arts Center
Successfully worked for an extension of the South Dade TransitWay (Busway) to Florida City
Was instrumental in the creation of Team Metro 311
Sponsored legislation to pursue the establishment of the Miami Wilds water theme park, family entertainment center and hotel on Zoo Miami property
Championed construction of the 14,000-square-foot Larcenia J. Bullard Plaza in Richmond Heights, to include a South Miami-Dade Black history exhibit, social services, offices and retail space.
Sponsored legislation to bring an Amazon facility to Naranja, consisting of a million square feet of warehouse space and creating 325 jobs
Sponsored a collaborative program with the Richmond-Perrine Optimist Club and the Greater Goulds Optimist Club to create Youth Bands of America, which is structured to work in conjunction with various Optimist and little league programs, along with the annual Summer Band Camp, to give beginning and intermediate students the opportunity to rehearse music and marching drills.
Sponsored legislation to rename portions of Dixie Highway in Miami-Dade County as Harriet Tubman Highway