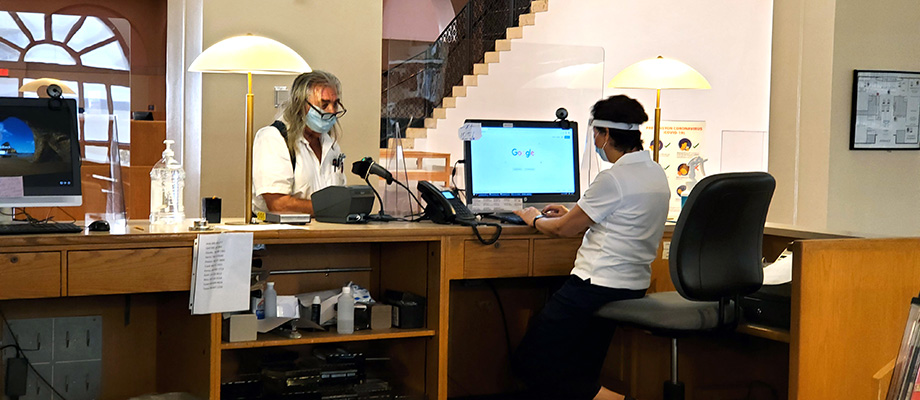 Booklovers had something to celebrate this summer besides reopened businesses, outdoor dining, and beaches. After months of being closed due to the coronavirus pandemic, the Miami-Dade Public Library System (MDPLS) opened its doors to the public once again on June 8, 2020. During the initial reopening, all library locations operated with occupancy limits in keeping with state and Miami-Dade County guidelines to ensure social distancing and gatherings of 10 people or less. Patrons were also required to wear face masks or face coverings to enter and while inside the library, sanitize or wash their hands upon entry, and practice social distancing.
To maintain social distancing, a reduced number of seating areas and computers were made available and time limits were placed on computer sessions to ensure access for others. Floor decals were also placed throughout all libraries to remind people where they should stand. Other safety measures included the installation of plexiglass shields at service desks, face shields for library staff, hand sanitizer dispensers throughout library facilities and disinfecting wipes available for staff and patrons to wipe down computer areas and printers/copy machines.
Throughout the pandemic, the Miami-Dade Public Library System continued to serve the public through the availability of digital content (such as eBooks, audiobooks, movies, learning resources and virtual programs), walk-up service for patrons to pick up pre-ordered library materials, and distribution of more than 115,000 paper copies of state Reemployment Assistance applications and over 21,000 Department of Children and Families Food (SNAP), Medical (Medicaid) and Temporary Cash (TANF) assistance applications to residents in need of obtaining economic assistance during this time. With the reopening of our libraries, residents will now also be able to use library computers and Wi-Fi to access these and other assistance programs, conduct job searches, complete the 2020 Census online, pick up Vote-by-Mail Ballot Request Forms and more.
"The reopening of the libraries was a big deal for a lot of our residents, especially those who don't have Internet access at home, so I'm glad we were able to get it done while implementing new safety measures to protect patrons' health. Now that libraries are open, residents can respond to the 2020 Census at any Miami-Dade Public Library," said Commissioner Esteban L. Bovo, Jr.