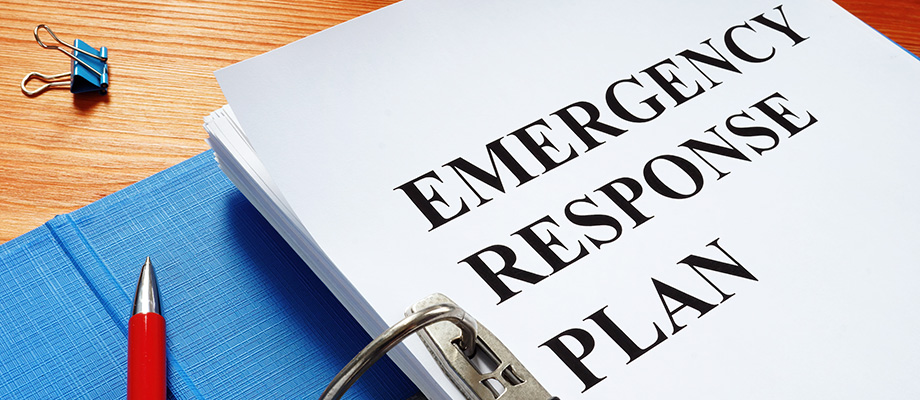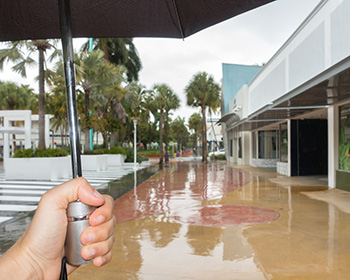 Few incidents in recent history have so dramatically highlighted the importance of resiliency as the coronavirus pandemic. Governments around the world had to act quickly and firmly in response to the global emergency in order to avert a health catastrophe, putting their entire societies to the test as they were forced to adapt almost overnight to unprecedented circumstances. But while COVID-19 gave little warning, certain environmental phenomena like hurricanes and sea level rise are fully anticipated, and Miami-Dade County has long been a leader in building resilience to withstand these expected emergencies.
As a densely populated low-lying coastal community with dozens of miles of prime seafront property, Miami-Dade is regarded as Ground Zero for sea level rise caused by climate change. The effects are already being seen with frequent flooding in many areas of the County, and those impacts are expected to increase, as the National Oceanic Atmospheric Administration (NOAA) reports that 2020 is on track to be one of the top five warmest years ever documented, following 2019, which was the second warmest year on record. As the County addresses the impacts, Miami-Dade's leaders are working to ensure that the County becomes a world model for resiliency.
Under Commissioner Rebeca Sosa's leadership, the County established the Climate Change Advisory Task Force (2006 to 2011), and later, the Sea Level Rise Task Force (July 2013 to July 2014) to specifically assess and make recommendations to address the impacts of sea level rise. The Sea Level Rise Task Force was charged with reviewing the potential impacts of climate change and sea level rise on County infrastructure and services, as well as on natural resources. It also provided a comprehensive and realistic assessment of the potential impacts of sea level rise and storm surge over time. In response to the Commission's initiatives and with strong public support, Mayor Carlos Gimenez in 2015 created the County Office of Resilience to focus the activities of the County's more than 20 departments on sea level rise and to coordinate the implementation of GreenPrint, the County's Sustainability Plan, which establishes a framework to achieve a resilient future through a vibrant economy, healthy urban environments, smart mobility and environmental stewardship. The County also took steps to build its annual budget around resilience, amend the Comprehensive Development Master Plan and ensure the capital facilities planning process reflected resilience principles.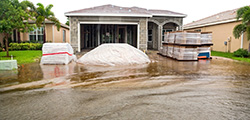 The overarching recommendation of the Sea level Rise Task Force was to accelerate the adaptation planning process by obtaining the engineering and other expertise needed to develop a robust capital plan encompassing flood protection, salinity structures, pump stations, road and bridge design, etc. As a result of the task force's recommendations, expert studies were commissioned on the projected impacts of sea level rise on public services, facilities, real estate, water, ecological resources, property and infrastructure.
In 2014, the Commission also approved legislation calling for all infrastructure projects to be designed and constructed with a view to keeping them safe from rising tides due to climate change, and the County is in the process of hardening its existing critical infrastructure to prepare for rising sea levels. Such investments in enhanced flood protection measures and coordinated infrastructure improvements will reduce flood risk, enhance community livability and foster continued economic vitality.
As a member of the 100 Resilient Cities Program, Miami-Dade is a leader in the Resilient Greater Miami and the Beaches Multi-Jurisdictional Partnership to create an inclusive resilience strategy for our community. As part of the County's Resilient305 Strategy, a Sea Level Rise Strategy will provide guidance on how to address sea level rise in a comprehensive and cohesive way through implementable, financially feasible adaptation strategies over the short, medium and long terms. In conjunction with Miami Climate Alliance, the County hosted a series of Sea Level Rise Workshops last year to obtain public input and ensure that all segments of Miami-Dade's diverse population were engaged in the process. The County also has supported the U.S. Army Corps of Engineers' ongoing studies to reduce potential damages from coastal storms. These studies are complementary to the County's sea level rise strategy and will lead directly to cost sharing future projects with the federal government.
In addition to preparing for the effects of climate change, the County has taken steps to reduce its carbon footprint to foster a more sustainable environment by purchasing more fuel-efficient transit vehicles and lowering the use of water and electricity in County buildings.
VIEWPOINTS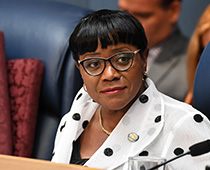 Chairwoman Audrey M. Edmonson
"Thanks to all we're doing and have done, Miami-Dade County is well positioned to become a world leader in resiliency. By developing the next generation of solutions and technologies to adapt to climate change, we will ensure continued economic vitality while serving as a model of resiliency for the country and the world."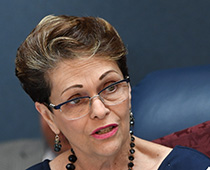 Commissioner Rebeca Sosa
"Over the years I have been proud to champion initiatives to protect our residents and infrastructure from the issue of Sea Level rise and defend Biscayne Bay and the Everglades."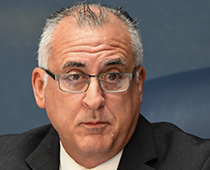 Commissioner Esteban L. Bovo, Jr.
"I formed the District 13 Economic Recovery Task Force with health professionals, industry, and community leaders to discuss what a reopening looks like to them. A reopening plan is not and should not look the same for all areas of our County, which rely on different sectors of our economy."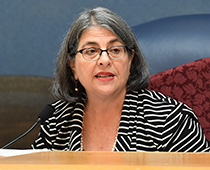 Commissioner Daniella Levine Cava
"Resilience means planning ahead for a changing environment, so we are able to bounce back after large-scale events like floods and hurricanes and thrive in the face of sea level rise."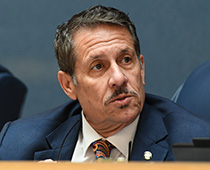 Commissioner José "Pepe" Díaz
"Resilience to sea level rise impacts requires a community-wide response, including updated planning standards, enhanced flood protection measures and coordinated infrastructure improvements. These investments will reduce flood risk, enhance community livability and foster continued economic vitality."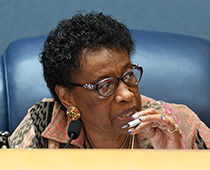 Commissioner Barbara J. Jordan
"The Resilient305 Strategy's comprehensive approach recognizes that being a resilient community means more than preparing for sea level rise; it means addressing the full range of our residents' quality of life needs – from housing to transportation to economic equality."