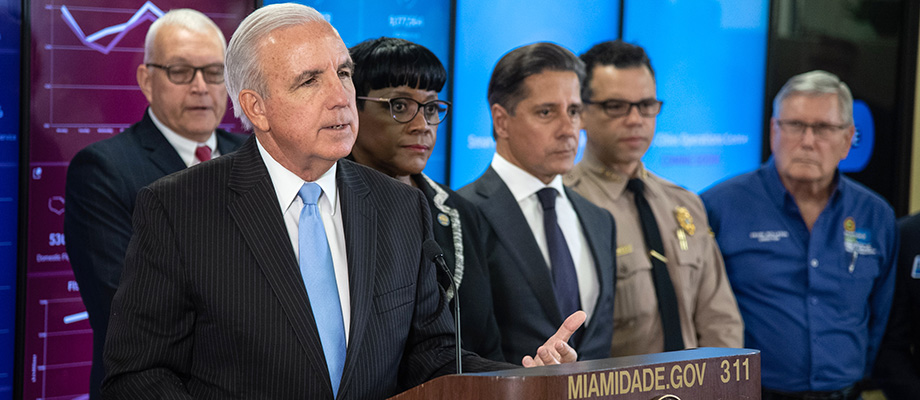 DID YOU KNOW?
Nearly nine in 10 U.S. adults say their life has changed at least a little as a result of the COVID-19 outbreak, including 44 percent who say their life has changed in a major way.
Four in 10 working-age adults ages 18 to 64 report having worked from home because of coronavirus concerns.
Among the 33 percent of Americans who say they or someone in their household has either lost a job or took a pay cut because of the coronavirus outbreak, 54 percent say their personal life has changed in a major way as a result of the outbreak.
Source: Pew Research Center survey, March 2020
Protecting the public health has been Miami-Dade County's top priority during the COVID-19 pandemic.
Following the lead of the Centers for Disease Control and Prevention as the pandemic emerged, we acted quickly to implement social distancing, cancel major events, close our beaches and parks, and order the closing of all non-essential businesses to halt the spread of the virus while setting up coronavirus testing sites at a number of locations around the county.
Early on as the pandemic emerged, Miami-Dade Mayor Carlos Gimenez and the Board of County Commissioners acted quickly and decisively to halt the spread of the virus. First, the County took steps to protect the elderly and medically compromised residents as it closed senior centers and began delivering meals to needy senior citizens. A series of subsequent orders imposed social distancing guidelines, closed parks and beaches, and finally ordered the shuttering of non-essential retail and commercial establishments.
County government remained at work during the entire crisis, continuing to provide services to residents and addressing constituent questions and concerns as most offices shifted to remote-working virtual operations.
To help residents cope with the financial hardship of the shutdown as they awaited their federal stimulus checks, the County also offered numerous free food distributions, suspended water service disconnections and eviction operations, and established unemployment assistance application pickup sites outside more than two dozen libraries around the county.
On April 29, Mayor Gimenez allowed for a limited reopening of parks and established the rules and regulations for enjoying the parks, including the use of face masks and social distancing. In mid-May, with criteria established by the federal government showing a downward trend in cases and hospitalizations in Miami-Dade County, other restrictions were relaxed as the County entered into Phase 1 of its "New Normal" guide, which included specific industry protocols for various businesses and establishments, including retail, hair salons and restaurants. Following a spike in cases in June, restaurant indoor dining was again suspended and the wearing of face masks in public was made mandatory. The County will continue to monitor the situation and make any necessary adjustments as circumstances merit.
The County also is preparing for the next crisis by evaluating lessons learned and addressing how to lessen the impact of future pandemics and other natural disasters by reducing residents' potential vulnerability and building resilience.
VIEWPOINTS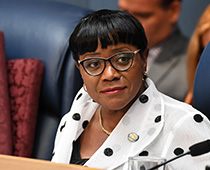 Chairwoman Audrey M. Edmonson
"As we proceed with the phased reopening of our County and a gradual return to normalcy, I want to especially thank our health care workers, first responders and all the essential workers throughout the County who have been on the front lines of this pandemic and whose dedication and courageous efforts have kept our community going through this crisis."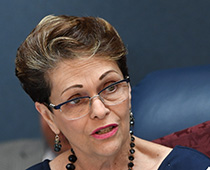 Vice Chairwoman Rebeca Sosa
"I'm proud of our community's response to the coronavirus pandemic and the incredible efforts of County employees to safeguard the public's health while also meeting humanitarian needs by feeding families and working to provide financial relief during the crisis."