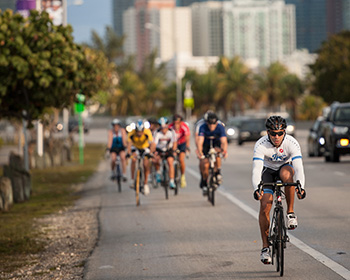 Miami-Dade County's flat terrain and great year-round weather make it the perfect place for bicycling. With no steep hills or freezing sleet and snow to ever have to contend with, cyclists can just enjoy the beautiful outdoors as they cruise or speed along South Florida's tree-lined vistas. And with plans for more bike-friendly infrastructure around the County, it's only getting better. The Underline under construction under Metrorail's guideway and the planned Ludlam trail will both feature trails for cyclists, and a number of Miami-Dade's streets are being upgraded with bike lanes and other bike safety features.
The increasing convenience of biking is something to celebrate for many reasons. Cycling is not only a healthy form of exercise, but it's also an inexpensive and pollution-free way of getting around the neighborhood. And when used in conjunction with public transportation to go the extra several miles or farther to get to work or school, the use of bicycles can alleviate traffic congestion and lower greenhouse emissions by reducing the number of cars on the road.
Miami-Dade Transit's bike-friendly system encourages cyclists to use transit to go those longer distances by allowing bikes on all its transit modes – Metrobus, Metrorail and Metromover. Buses are equipped with frontal bike racks where cyclists can mount their bikes after signaling the driver, reminding the driver again just before exiting the bus through the front door. All Metrorail stations are equipped with bike racks, and several even feature BikeLids that offer covered protection and can be secured by padlock. The County's Bike & Ride program also allows riders to bring their bikes onto Metrorail and Metromover, using the elevator to get to the platform, and allowing passengers without bicycles to exit first.
Apart from supporting the County's bike-friendly transit system, the County Commission has improved bike safety through legislation such as the County's "Complete Streets" program, which called for a coordinated effort between the County, the Florida Department of Transportation and other agencies to incorporate sidewalks, bike facilities, crosswalks and other pedestrian and bicycle-friendly features in the planning and design of roads, bridges and other parts of the transportation network.
---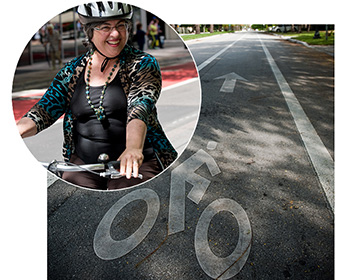 Bike Facilities
More than 100 miles of paved paths, bike lanes, and unpaved trails exist in Miami-Dade. Some recent and upcoming projects include:
Biscayne Trail (Miami-Dade Parks, Recreation and Open Spaces)
Carol City Trail (U.S. Army Corps of Engineers)
FIU/Oleta River Path (North Miami)
M-Path Extension to Dadeland (Miami-Dade Transit)
Miami River Greenway (City of Miami)
North Beach Recreational Corridor (Miami Beach)
Safety Engineering for Pedestrians (University of Florida/FDOT/MDPW)
Snake Creek Trail (North Miami Beach)
Snapper Creek Segment "B" Master Plan
South Dade Greenways Network (Miami-Dade Public Works)
South Dade Trail Extension to Florida City (Miami-Dade Transit)
---
VIEWPOINTS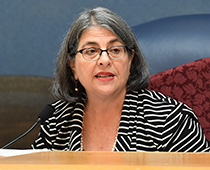 Commissioner Deniella Levine Cava
"By encouraging people to bike and ride, Miami-Dade Transit is making public transportation a viable alternative for more people who otherwise might not use it. We need to make sure our pathways are safe for pedestrians and bicyclists to create the full range of mobility options."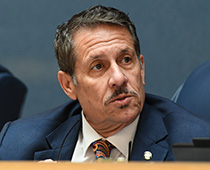 Commissioner José "Pepe" Díaz
"I believe we need to do everything we can to make our roads as safe as possible for cyclists as well as pedestrians."