PLANNED RAPID TRANSIT CORRIDORS
Beach Corridor: This corridor would run 9.7 miles, crossing Biscayne Bay to link downtown Miami with Miami Beach, with extensions to Wynwood and the Miami Beach Convention Center. No mode has been selected, but among the options is an extension of the Metromover system.
East-West Corridor: This 11-mile corridor would run from the Miami Intermodal Center at Miami International Airport to Florida International University's West Dade campus.
Kendall Corridor: This corridor would run along Kendall Drive between Southwest 162nd Avenue and the Dadeland North Metrorail station.
North Corridor: This corridor would run alongside Northwest 27th Avenue between the Miami-Dade/Broward County line and Downtown Miami.
Northeast Corridor: This corridor will utilize the FEC railroad track operated by Virgin Trains (formerly Brightline) to connect Downtown Miami with Aventura.
South Dade Corridor: This corridor will be a Bus Rapid Transit (BRT) line running 20 miles from the Dadeland South Metrorail Station along the existing South Dade TransitWay to the Southwest 344th Street Park & Ride. The BRT system will provide rail-like travel time, iconic stations, near-level boarding through all doors and prepaid fares for speedy access.
Solving Miami-Dade County's transportation challenges requires more than a vision for efficient and effective rapid transit that meets the needs of an ever-growing population. It also requires a defined plan backed by strategic thinking and the funding mechanisms to pay for it.
That plan has a name: The SMART Plan. The acronym stands for the "Strategic Miami Area Rapid Transit" Plan, but it also acknowledges that intelligent urban planning must have public transportation as a key component.
"The SMART Plan is a bold blueprint that combines innovative funding, zoning incentives and strategic partnerships to turn our vision for better transportation into reality for our residents and visitors," said Miami-Dade County Commissioner Esteban L. Bovo, Jr., who chairs the Transportation and Finance Committee.
The SMART Plan was officially adopted on April 21, 2016 by the Miami-Dade Transportation Planning Organization (TPO) Governing Board and was endorsed by the Miami-Dade County Commission on June 7, 2016. It utilizes a combination of the People's Transportation Plan sales surtax proceed, innovative tax incremental financing, and zoning changes to advance six rapid transit corridors – designated as the Beach, Kendall, East-West, North, Northeast and South Dade TransitWay corridors.
"We have to be flexible and fearless. We can't solve tomorrow's transit and transportation problems with yesterday's transit mindset. We have to imagine without guardrails and grow forward," said TPO Governing Board Chairman Oliver Gilbert.
---
WHY IS THE SMART PLAN SO CRITICAL?
The SMART Plan includes rapid transit corridors and express bus routes to increase connectivity for approximately 77 percent of the Miami-Dade County residents that travel outside their residential district for employment in other areas of the County.
---
WITHIN 2-MILE RADIUS OF SMART PLAN CORRIDORS:
1.7 MILLION OF THE COUNTY'S POPULATION LIVE
855,000 EMPLOYEE WORK
TRANSIT-ORIENTED DEVELOPMENT PLANNED
---
RECENT SMART PLAN MILESTONES
In October 2019, the Miami-Dade TPO Governing Board endorsed elevated heavy rail as the preferred mode for the North Corridor and the Miami-Dade County Commission advanced the Northeast Corridor by approving an agreement with Virgin Trains to provide high-speed rail service between Aventura Mall and the company's downtown Miami train station.
In September 2019, the County hosted a second series of alternatives workshops regarding proposed improvements for the Beach Corridor Rapid Transit Project, which would connect Miami Beach to mainland Miami.
In August 2019, the County submitted a project evaluation and rating package in pursuit of a $100 million federal grant for the South Corridor Rapid Transit Project. If awarded, the grant will be matched by $100 million from the Florida Department of Transportation and $100 million in local funding.
In 2019, Miami-Dade County was awarded a $9.5 million U.S. Department of Transportation BUILD grant to complement implementation of the SMART Plan by supporting continued expansion of the South Dade TransitWay. The grant will help increase capacity at the Southwest 152nd Street and 168th Street Park & Ride facilities along the South Dade TransitWay.
PLANNED BUS EXPRESS RAPID TRANSIT ROUTES
In addition to its six rapid transit corridors, the SMART Plan also calls for a Bus Express Rapid Transit (BERT) network that complements the six corridors to get passengers to their final destinations.
Already in operation is the Northwest Miami-Dade Express (Route 175): This new route runs between the Palmetto Metrorail station and the I-75 Park & Ride.
Additional planned BERT routes:
Southwest Miami-Dade Express: Service between Miami Executive Airport and the Dadeland North Metrorail Station
South Miami-Dade Express: Service between Dadeland North Metrorail Station and the Southwest 344th Street TransitWay station via State Roads 878 and 874 and the Homestead Extension of Florida's Turnpike
Flagler Corridor: Service along Flagler Street between Southwest 147th Avenue/Florida's Turnpike and Virgin Trains' Miami Central Station in Downtown Miami
Florida's Turnpike Express (North): Service between Dolphin Station and North Miami-Dade
Florida's Turnpike Express (South): Service between Dolphin Station and the Southwest 344th Street Park & Ride.
Beach Express North: Service between the Miami Beach Convention Center and the Golden Glades Intermodal Terminal
Beach Express Central: Service between the Miami Beach Convention Center and the Civic Center Metrorail Station
Beach Express South: Service between the Miami Beach Convention Center and Downtown Miami
BUS RAPID TRANSIT (BRT)
Bus Rapid Transit (BRT) provides high-quality transit service operating with features similar to rail. These features include preemptive signals, offboard fare collection and near-level boarding. BRT improves passenger capacity and offers more reliability, delivering fast and efficient service.
How does a BRT-based approach differ from a light rail or commuter rail-based approach?
The key element is that BRT focuses on leveraging existing and future roadway infrastructure. This allows for targeted transit and road improvements to be implemented in a scalable, flexible and strategic manner – more quickly, more cost-effectively and more broadly, with substantially less capital and operating risk than rail.
Does BRT have any advantages over rail?
BRT is an alternative to rail. It is a different form of enhanced transit that provides inherent benefits in flexibility and speed of implementation. The rail option is expensive and geographically limiting. By eliminating or deferring significant corridor infrastructure costs and light rail operating costs, BRT can provide more transit for more people faster.
DEFINITIONS OF TRANSIT MODES
DID YOU KNOW?
The Miami-Dade Board of County Commissioners and the Transportation Planning Organization looks for ideas to improve our transportation system. Be part of the solution today by contributing to the process! Call 305-375-1888.
Bus: A transit mode comprised of rubber-tired passenger vehicles operating on fixed routes and schedules over roadways. Vehicles are powered by diesel, gasoline, battery or alternative fuel engines contained within the vehicle.
Heavy Rail: A transit mode that is an electric railway with the capacity for a heavy volume of traffic. It is characterized by high speed and rapid acceleration passenger rail cars operating singly or in multi-car trains on fixed rails, separate rights-of-way from which all other vehicular and foot traffic are excluded, sophisticated signaling and high platform loading.
Light Rail: A transit mode that typically is an electric railway with a light volume traffic capacity compared to heavy rail. It is characterized by passenger rail cars operating singly (or in short, usually two car, trains) on fixed rails in shared or exclusive right-of-way, low or high platform loading, and vehicle power drawn from an overhead electric line via a trolley or a pantograph.
Commuter Rail: A transit mode that is an electric or diesel propelled railway for urban passenger train service consisting of local short distance travel operating between a central city and adjacent suburbs.
Vanpool: A transit mode comprised of vans, small buses and other vehicles operating as a ride sharing arrangement, providing transportation to a group of individuals traveling directly between their homes and a regular destination within the same geographical area.
Monorail: A transit mode that is an electric railway of guided transit vehicles operating singly or in multi-car trains. The vehicles are suspended from or straddle a guideway formed by a single beam, rail or tube.
Publico: A transit mode comprised of passenger vans or small buses operating with fixed routes but no fixed schedules. Publicos are a privately owned and operated public transit service which is market oriented and unsubsidized, but regulated through a public service commission, state or local government. Publicos are operated under franchise agreements, fares are regulated by route and there are special insurance requirements. Vehicle capacity varies from eight to 24, and the vehicles may be owned or leased by the operator.
Demand Response: A transit mode comprised of passenger cars, vans or small buses operating in response to calls from passengers or their agents to the transit operator, who then dispatches a vehicle to pick up the passengers and transport them to their destinations.
---
VIEWPOINTS
Chairwoman's Policy Council Members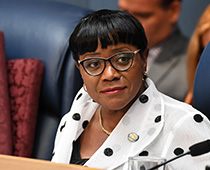 Chairwoman Audrey M. Edmonson
"The SMART Plan represents a vision for the region that is both strategic and far-reaching, creating a system of multiple transportation options by leveraging existing infrastructure, and integrating technology at the highest levels."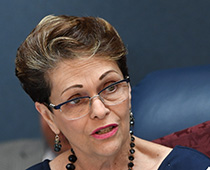 Vice Chairwoman Rebeca Sosa
"A few years ago this Commission voted, to use the half penny to preserve the bus routes and the service to the community, but we've been able to improve our financials and it's time to be able to release the half penny for what was the intent of the public when they voted for the half penny."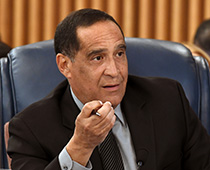 Commissioner Joe A. Martinez
"It's going to take a lot to get everyday Miami-Dade County residents out of their cars and using public transportation. If we can give them faster, more reliable service that gets them to work in less time on a consistent basis, they will consider it."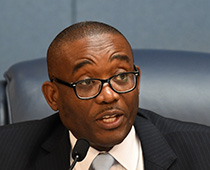 Commissioner Jean Monestime
"I'm excited about the possibilities for significantly enhanced transit service that the SMART Plan is offering. We must continue to move forward toward a better transportation future for all our residents – north, south, east and west."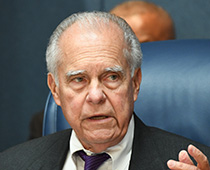 Commissioner Javier D. Souto
"The Unincorporated Municipal Service Area (UMSA) is in need of the same type of services that the cities have, including trolleys, circulators, etc., and my district is 100 percent UMSA."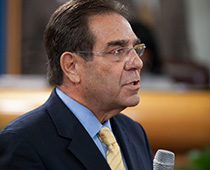 Commissioner Xavier L. Suarez
"The people of Miami-Dade County will judge us to the extent we are able to turn our plans for a better transportation system countywide into reality."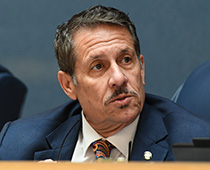 Commissioner José "Pepe" Díaz
"The people out there are fed up, they're tired. When it comes to transportation, they want things to be done. They want things to be done today, they want it done yesterday."