Good Samaritan saves elderly woman from house fire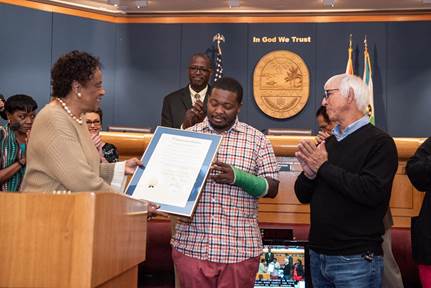 Commissioner Jordan presents a district commendation to Altavious Powell for saving his elderly neighbor Maria Cabral from a house fire as Cabral's son Fernando looks on. (Photos by Armando Rodriguez / Miami-Dade County)
MIAMI-DADE COUNTY – Miami-Dade County Commissioner Barbara J. Jordan presented a district commendation to Altavious Powell at the January 23 Board of County Commissioners meeting for heroically rescuing his 93-year-old neighbor from a house fire.
On Dec. 10, Mrs. Maria Cabral prayed and lit a candle in her Miami Gardens home as she does every night. However on that evening, the flame caught onto the wall, causing a house fire. Altavious Powell, Cabral's neighbor across the street, was heading to physical therapy for his injured hand when he smelled smoke and ran toward the fire.
As his girlfriend, Ms. Ingrid Lomax, called 911, Mr. Powell used the cast on his arm and a plastic chair that was outside to break the window of Cabral's home. Once inside, he called out to Mrs. Cabral and she said: "I'm right here." At that point, he was able to locate her and grab her with one arm. She then looked up at him and thanked him, and he pulled her outside to safety and a waiting ambulance.
"It takes a lot of courage and selflessness to run towards a fire while he was wearing a cast," Commissioner Jordan said while presenting Powell with his commendation. "Because of his bravery, Mrs. Cabral is alive today."
Mrs. Cabral was taken to Jackson Memorial Hospital's Ryder Trauma Center for smoke inhalation and burns on her hands, arms, and back. She has mostly recovered from those injuries but is currently recovering from surgery on her leg.
Maria Cabral's son, Fernando Cabral, who attended the ceremony on her behalf, thanked Powell for saving his mother's life.
Powell said of his neighbor: "She watched me grow up since I was a little boy. I'm just grateful that on that day, I was at the right time and place to be there to help her."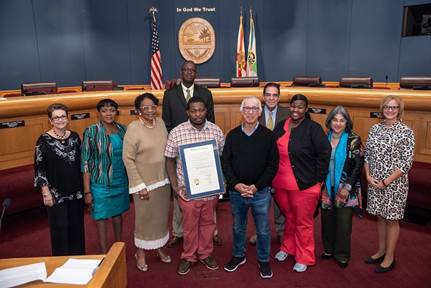 Altavious Powell is honored at the January 23 County Commission meeting.