Residents flock to Music in the Park concert in Miami Gardens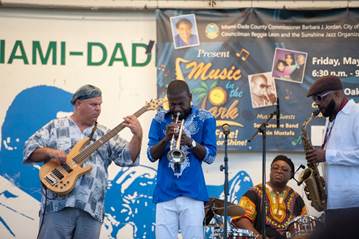 Yamin Mustafa gives a dynamic performance at Music in the Park. (Photos by Godfrey Mead / Miami-Dade County)
MIAMI GARDENS – Residents turned out for Music in the Park at Rolling Oaks Park on May 10 in Miami Gardens. The audience clapped their hands and tapped their feet as jazz trumpeter Yamin Mustafa and South Florida songstress Maryel Epps captivated the crowd during the free semiannual concert sponsored by Miami-Dade County Commissioner Barbara J. Jordan, the Sunshine Jazz Organization, Miami Gardens Councilman Reggie Leon, and the Miami-Dade Cultural Affairs Department.
"We had an amazing lineup," Commissioner Jordan said. "Everyone brought out their blankets and chairs and enjoyed the show."
Concertgoers grooved to the smooth tunes of jazz trumpeter Yamin Mustafa and his brother saxophonist Melton Mustafa Jr., who are sons of legendary trumpeter, the late Melton Mustafa Sr. The brothers presented a plaque to Commissioner Jordan and praised her for being a longtime collaborator with the Mustafa family who has been performing at the jazz series since its inception in 2005.
For the second part of the show, Maryel Epps, took the audience back in time and performed jazz, R&B, and contemporary hit songs. Epps is well-known for her popular gospel brunch series which she hosts at several venues in South Florida.
The next Music in the Park concert is scheduled for Dec. 6.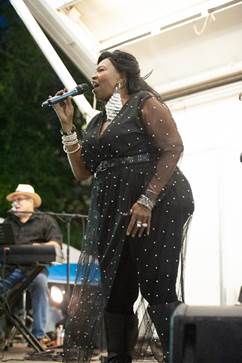 Maryel Epps sings at Music in the Park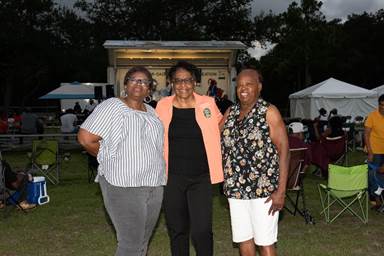 Commissioner Jordan greets concertgoers.