Jordan hosts Capital Contracts Symposium and Labor Partnerships event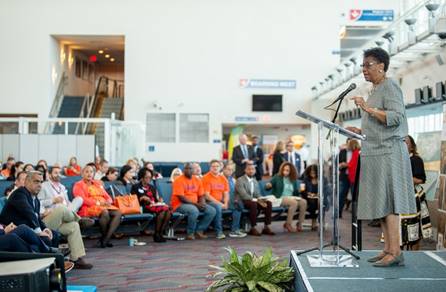 Commissioner Jordan greets attendees of the symposium. (Photos by Armando Rodriguez/Miami-Dade County)
MIAMI-DADE – More than 400 people on Oct. 30 attended Miami-Dade County Commissioner Barbara Jordan's Capital Contracts Symposium and Labor Partnerships event, which was co-sponsored by the Small Business Development Division, the Miami-Dade Aviation Department, PortMiami, the Water and Sewer Department, LiUNA and the Vailon Group.
"The purpose of this event is to give businesses the tools to grow and become more successful," Commissioner Jordan said.
The symposium, held at PortMiami, allowed business owners to learn about ongoing County capital improvement projects aimed at stimulating the community's economy. They were also given the opportunity to connect with County contract officers, network with other companies, and start the process to become a county vendor and a certified Small Business Enterprise.
Attendees also gathered valuable information about employment opportunities from CareerSource South Florida and various labor unions.