Commissioner Jordan gives away over 1,000 turkeys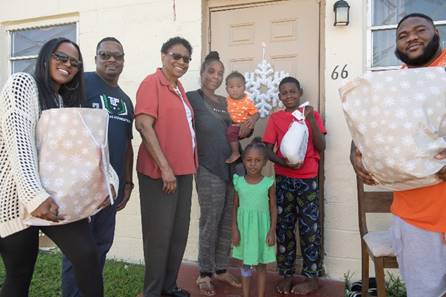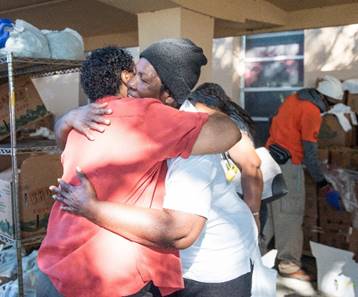 At left, Slip-n-Slide Records artists Teenear and Mike Smiff (holding bags), Ted Lucas, and Commissioner Barbara Jordan bring the McClarin family a basketful of Thanksgiving items donated by sponsors. At right, a grateful resident gives Commissioner Jordan a hug at her 15th annual turkey giveaway at Landmark.
(Photos by Godfrey Mead / Miami-Dade County)
MIAMI-DADE – Miami-Dade County Commissioner Barbara J. Jordan hosted her 15th annual turkey giveaway at Landmark in Northwest Miami-Dade County on November 26. Commissioner Jordan, sponsors, and volunteers handed out more than 1,000 turkeys to those in need, including churches, schools, and social organizations that serve the community.
"Each year, it's important to show our gratitude by helping those in need during the Thanksgiving holiday," Commissioner Jordan said. "Thanks to our amazing sponsors, we were able to give away more than 1,000 turkeys, fresh green beans, sweet potatoes, cucumbers, fruits, and more."
That afternoon, Jordan and record mogul Ted Lucas teamed up to deliver Thanksgiving baskets with all the trimmings to several impoverished families in North Miami-Dade County.
Sponsors of the turkey distribution and door-to-door basket donations are Signature Flight Support, Feeding South Florida, the Miami Dolphins, the Ted Lucas Foundation, Atlantic Aviation, and Robert W. Holland.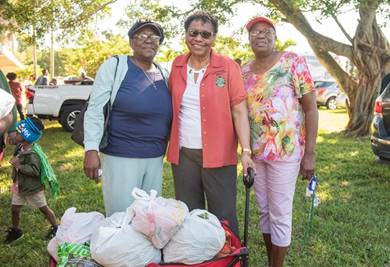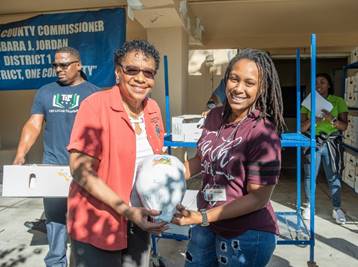 At left, Commissioner Jordan greets District 1 residents as they stock up on Thanksgiving items. At right, she hands a resident a Thanksgiving turkey.