Commissioner Jordan dedicates center honoring civil rights icon Rev. Dr. Edward T. Graham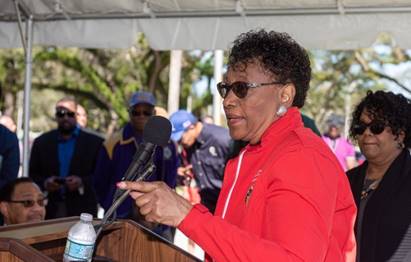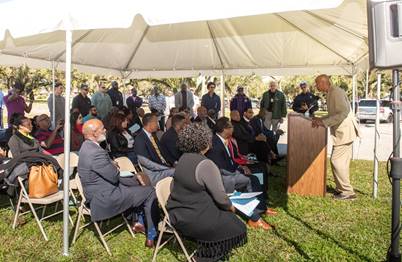 Above left, Commissioner Jordan greets the audience. At right, Richard Harris, grandson of the late Rev. Graham, speaks to the audience. At bottom, from left to right, Bishop Jimmie L. Williams, Morgan Harris, John Harris,
Miami Gardens Mayor Oliver Gilbert, Commissioner Jordan, Richard Harris, FMU President Jaffus Hardrick, Charmaine Sutton, Graham Harris,
Miami Gardens Councilman David Williams Jr., Miami-Dade Community Action and Human Services Department Director Lucia Davis-Raiford, and Deputy Mayor Maurice Kemp at the new sign unveiling.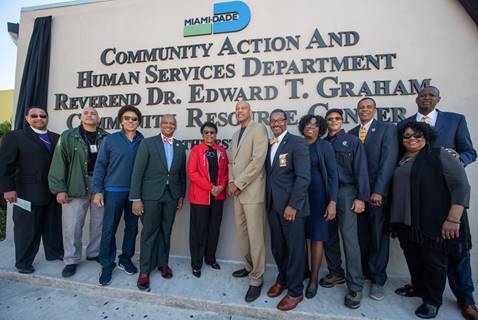 (Photos by Godfrey Mead / Miami-Dade County)
MIAMI GARDENS – Miami-Dade County Commissioner Barbara J. Jordan hosted a public dedication and renaming ceremony to recognize the new designation of a County facility as the Reverend Dr. Edward T. Graham Community Resource Center on February 3 in Miami Gardens.
Commissioner Jordan sponsored legislation that was adopted late last year to change the name of the former Miami Gardens Community Resource Center. In November, the Miami-Dade County Commission voted unanimously to rename the center after many residents attended the meeting to show their support and describe the impact the late civil rights icon had on residents in Miami-Dade County.
Rev. Graham was instrumental in the integration of Miami's lunch counters, golf courses, buses, police department, Dade County beaches, and Miami Beach hotels. He also founded Miami's chapter of the Urban League and brought Florida Memorial College to Miami. In 1948, he became pastor of Mt. Zion Baptist Church and continued to champion black causes in that role; and in 1970, he became the first black male commissioner of the City of Miami.
Richard Harris, grandson of the late Rev. Graham, works as an educator and is currently creating a documentary about his grandfather's life. Harris says he originally approached Commissioner Jordan with the idea of getting a building designated in his grandfather's honor.
"It was overdue," Harris said. "A lot of black leaders aren't here to see this day, but I'm really happy to see us recognize our own. We have to do a better job of documenting and telling our own history. We have a long way to go."
At the dedication ceremony, many local leaders spoke about Rev. Graham's contributions to Miami, including Miami-Dade County Deputy Mayor Maurice Kemp, Miami Gardens Mayor Oliver Gilbert, Miami Gardens Councilman David Williams Jr., and Florida Memorial University President Jaffus Hardrick. Miami civil rights pioneer and community activist Thelma Gibson was also in attendance.
"It is very fitting that we kicked off Black History month by honoring a civil rights leader who left such an indelible mark here in this community," Commissioner Jordan said. "I'm extremely happy that we were able to come together to commemorate Rev. Graham's legacy."