Funding approved for a North Dade Cultural and Performing Arts Center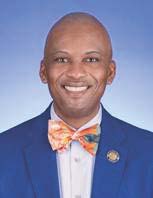 MIAMI-DADE – The Miami-Dade Board of County Commissioners held its second and final budget hearing, approving the FY 2021-22 budget, on Tuesday, September 28th, 2021. During the budget process, Vice Chairman Gilbert successfully advocated for $5 million for the construction of a North Dade Cultural and Performing Arts Center. Performing arts centers are economic drivers and provide access to cultural activities. The funds will be granted to the Miami Gardens CRA.
In addition to the dollars for a cultural and performing arts center in North Dade, the Vice Chairman was also able to secure funding for three major cultural events in District 1: the Orange Blossom Classic, Jazz in the gardens, and a Juneteenth Festival. These events will draw thousands of visitors, which will greatly benefit local businesses. Funding was also allocated to provide youth golf lessons at Country Club of Miami.
Vice Chairman Gilbert stated, "I would like to thank the mayor and my colleagues for collaborating with me to approve a budget that has great economic, social, and cultural benefits for District 1 and all of Miami-Dade County. What we have is a budget that is reflective of the voices of this community."