Miami-Dade County Commissioner Oliver G. Gilbert, III and Miami-Dade County Commissioner Anthony Rodriguez elected as Chairman and Vice Chairman of Board of County Commissioners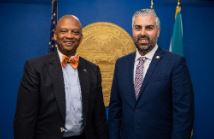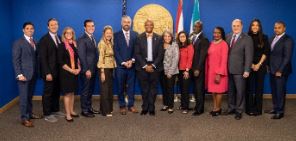 (Photos by: Armando Rodriguez/Miami-Dade County)
MIAMI-DADE – Today, Oliver G. Gilbert, III, was unanimously elected as Chairman of the Miami-Dade Board of County Commissioners. Chairman Gilbert previously served as Vice Chairman of the Board since 2020 and Interim Chairman since Nov.15, 2022.
"Serving the people has always been first for me," says Chairman Gilbert. "It's what I did as Mayor of Miami Gardens, and it's what I've done since assuming leadership with the Board of County Commissioners. As elected officials, we are listeners and problem solvers. It's my mission to solve the problems of our constituents that prohibit them from having a fair and equal opportunity to succeed in Miami-Dade County. I'm confident that my colleagues and I agree on that and will collaborate effectively on what's best for each District and all of Miami-Dade County."
The Chairman will preside over all Board of County Commissioners meetings and will appoint the chairpersons, vice chairpersons, and members of all commission committees. Additionally, nine Board offices will be overseen by Chairman Gilbert to include, Commission Auditor, Intergovernmental Affairs, the Jay Malina International Trade Consortium of Miami-Dade County, Policy and Budgetary Affairs, Community Advocacy, Agenda Coordination, Protocol, BCC Media, and Support Staff Services.
Chairman Gilbert began serving on the Board of County Commissioners representing District 1 on Nov. 17, 2020, after serving as the Mayor of Miami Gardens for eight years. Chairman Gilbert has sponsored legislation that implements paid sick leave for County employees due to COVID-19, establishes Carrie P. Meek Day, ratifies millions to combat slum and blight through the Miami Gardens Community Redevelopment Agency, and expands the Rapid Transit System Development Zone for better coordination of land uses and transportation facilities. Chairman Gilbert also leads the advancement of transportation as Chairman of the Miami-Dade Transportation Planning Organization.
Commissioner Anthony Rodriguez was elected to serve as Vice Chairman of the Board today in an 8-5 vote. Vice Chairman Rodriguez assumed office representing District 10 on Nov. 22, 2022, and brings his experience from the Florida House of Representatives to the Vice Chairman role.
"Public service is not a right and is not a single-player game," says Vice Chairman Rodriguez. "It is a calling and a duty that we must do better and better for those who allow us to serve. I have had the pleasure to serve this community for the last several years, and now I'm able to serve our local community. I'm honored to have been selected by my peers to help lead us into the future, but more importantly, I'm honored by the trust and commitment for us to all work together for the Miami-Dade we all love and call home. I'm looking forward to working alongside our Chairman, Mayor, and all my colleagues."