Chairwoman Edmonson cuts ribbon at new Pelican Harbor marina docks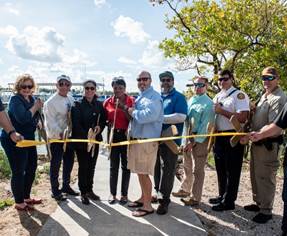 Chairwoman Edmonson, joined by officials, cuts the ribbon at the new marina docks at Pelican Harbor. (Photos by Ryan Holloway / Miami-Dade County)
MIAMI-DADE – County Commission Chairwoman Audrey M. Edmonson had the pleasure of cutting the ribbon at the brand new marina docks at Pelican Harbor Marina on Jan. 19, 2019.
Joined by Miami-Dade County Parks and Open Spaces (MDPOS) Director Maria Nardi, Florida Inland Navigation District (FIND) Director Spencer Crowley, environmentalist and Miami-Dade County Clerk of Courts Harvey Ruvin, MDPOS staff and "I Paddle" volunteers, Chairwoman Edmonson accepted a check from FIND which assisted in paying for repairs of damage caused by Hurricane Irma.
"I am excited that we have new docks at Pelican Island," said Chairwoman Edmonson, who serves as District 3 Commissioner. "Pelican Harbor Marina and the island are jewels of our County parks, and I am very proud to have them within my district. I look forward to seeing more residents and visitors enjoying their days boating, fishing, picnicking, walking the trails and pitching in to help keep these natural areas litter-free and beautiful."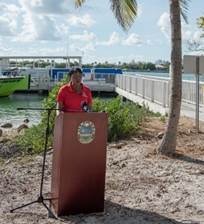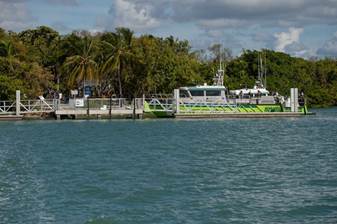 Chairwoman Edmonson, at left, speaks at the ribbon-cutting of the new marina docks at Pelican Harbor, shown at right.