Chairwoman Edmonson breaks ground on "16 Corner" Rehabilitation Project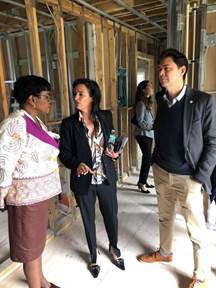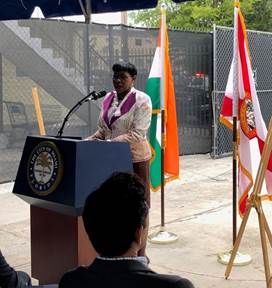 At left, Chairwoman Edmonson speaks with Avra Jain and Miami City Commission Chairman Ken Russell. At right, she addresses the audience at the groundbreaking. (Photos by Marcus Barfield / Chairwoman Edmonson's office)
MIAMI-DADE – Miami-Dade County Commission Chairwoman Audrey M. Edmonson, joined by City of Miami Commission Chairman Ken Russell, celebrated the groundbreaking of the "16 Corner" Rehabilitation Project on Jan. 30.
Located at 1540 NW 1st Street, the project is a joint effort by the Omni Community Redevelopment Agency (CRA), chaired by Chairman Russell, Mt. Zion Development, Inc. and the Vagabond Group, founded by Avra Jain. According to CRA Executive Director Jason Walker, this is the Omni CRA's first major housing affordability project.
The CRA and Chairman Russell will assist Jain and Mt. Zion to purchase a group of 1950s garden apartments consisting of 44 units in Overtown which will be renovated in phases as affordable units.
"The 16 Corner project is finally under way, and I am filled with anticipation to see its completion," Chairwoman Edmonson said. "I am very pleased that existing tenants will be able to stay on site and move into the new units as they are completed. With the '16 Corner,' we are addressing the need for affordable housing for the people of Overtown and preserving historical architecture at the same time. Overtown is deserving of a renaissance, and projects such as '16 Corner' contribute to its rebirth as a thriving living and working community."