Mock DUI event dramatizes dangers of drunk driving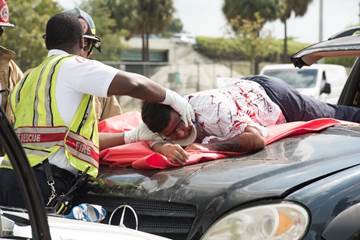 First responders and Miami Jackson Senior High students reenact a DUI incident to illustrate the dangers of driving while intoxicated.
MIAMI-DADE – Miami-Dade Commission Chairwoman Audrey M. Edmonson was one of the hosts of the 7th Annual Mock DUI event held on April 26 at Miami Jackson Senior High School. Students, first responders and volunteers enacted a mock car crash caused by a DUI driver and the response by fire, police, and EMT personnel to demonstrate the consequences of driving while intoxicated.
"We do this every year because we want our young people, particularly those partying on prom night, to realize that driving while intoxicated can lead to disaster," Chairwoman Edmonson said. "We also have to stress that texting and driving is equally dangerous. This mock DUI serves as a reminder that you need to take responsibility and think before you drive."
Chairwoman Edmonson was joined by Miami-Dade County Deputy Mayor Maurice Kemp, Miami-Dade School Board Member Dr. Dorothy Bendross-Mindingall, the Miami-Dade County Police Department Northside Station, the City of Miami Fire Rescue/Police Department and Urban League of Greater Miami CEO/President T. Willard Fair.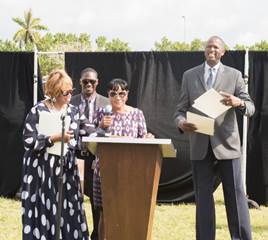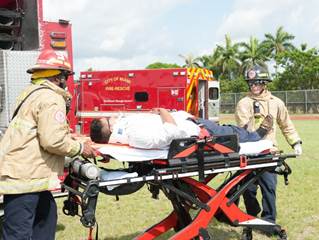 Chairwoman Edmonson, at left, speaks at the Mock DUI event, which involved a reenactment of a DUI crash and its aftermath, at right.