Chairwoman Edmonson distributes hurricane kits to low-income seniors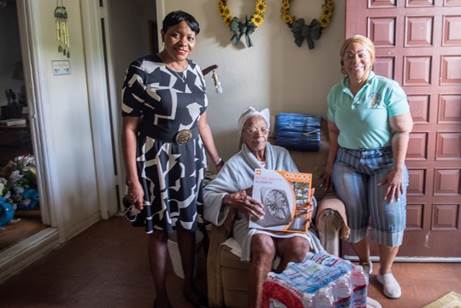 100-year-old Annie Johnson receives a hurricane kit from Chairwoman Edmonson, left, and Communities United Inc. Executive Director Hattie Willis.
MIAMI-DADE – Miami-Dade County Commission Chairwoman Audrey M. Edmonson, joined by Communities United Inc. Executive Director Hattie Willis, distributed hurricane preparedness kits to low-income senior citizens throughout neighborhoods within her District 3 on June 21, 2019.
Included in a portable cooler were battery-powered fans, flashlights, phone, radio, first aid kit, bleach, water, plastic eating plates and utensils and a USB drive for seniors to save their important documents electronically, among other items.
"Every year we join Communities United in this effort," Chairwoman Edmonson said. "It's crucial that we help our seniors, many of whom live alone, to be prepared to survive hurricanes for at least 72 hours after the storm passes. We ask neighbors to look out for each other during hurricanes and particularly to help our elderly residents get through a difficult time."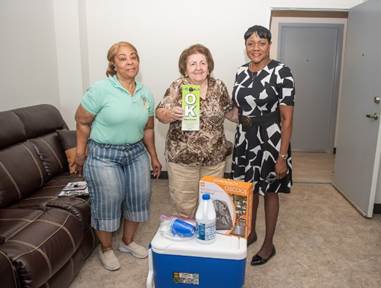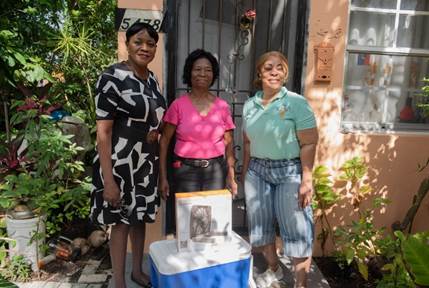 Danie Herrera of Allapattah, at left, and Veronique Fleurine of Little Haiti were among those receiving hurricane kits.