Griselle Marino honored as a 2020 In the Company of Women award winner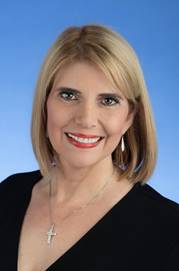 MIAMI-DADE – Griselle Marino, Press Officer and Community Liaison for the Miami-Dade Office of Advocacy, under the Board of County Commissioners, will be one of 12 inspiring women honorees at the 32nd annual "In the Company of Women" awards ceremony.
Marino, whose work as a journalist earned her two Emmy Awards before she joined Miami-Dade County in 2004 to serve in various communications positions, will accept the Communications and Literature Award at the event, which will take place at 6 p.m. on Thursday, March 19 at the Coral Gables Country Club, 990 Alhambra Circle, in Coral Gables.
"Congratulations to Griselle on earning this prestigious award and for all she's done on behalf of the County and for women's progress," said Miami-Dade County Commission Chairwoman Audrey M. Edmonson.
Throughout her career, Marino has exemplified a strong commitment to bringing important issues to light while promoting positive change through her passionate advocacy.
"I'm grateful to God for my supportive family, friends and mentors," Marino said. "I am also humbled by the recognition as it gives that extra stamp of approval to the work that I've done on behalf of the community. It makes me feel that I'm truly making a difference, and that is very rewarding."
Presented by the Miami-Dade Commission for Women and the Parks Foundation of Miami-Dade in celebration of Women's History Month as well as the 100th anniversary of the passage of the 19th Amendment granting women the right to vote, the awards ceremony recognizes Miami-Dade County women leaders who have excelled professionally and civically and have contributed to women's progress. Notable past awardees include salsa legend Celia Cruz, Congresswomen Ileana Ros-Lehtinen, Frederica Wilson and Debbie Wasserman Schultz, philanthropist Adrienne Arsht, and Grammy award-wining recording artist Gloria Estefan.
This year's other honorees are Darlene Boytell-Pérez, ARNP/clinical researcher, co-founder of Pérez Art Museum, winner of the Mayor's Pioneer Award; Maria Banda-Rodaz, Executive Artistic Director at Area Stage Company, winner of the Arts and Entertainment Award; Nancy Batchelor, Sr. Vice President of EWM Realty International, winner of the Business and Economics Award; Marie P. Woodson, retired Miami-Dade County Administrator and former Chair for the Miami-Dade Commission for Women, winner of the Community Spirit Award; Suzanna M. Rose, Ph.D., founding Associate Provost, Office to Advance Women, Equity & Diversity (AWED), Florida International University, winner of the Education and Research Award; Honorable Jeanette M. Nuñez, Lieutenant Governor, State of Florida, winner of the Government and Law - Elected Official Award; Christina White, Miami-Dade County Supervisor of Elections, winner of the Government and Law - Non-Elected Award; Ana "Teri" Busse-Arvesu, Senior Advocate for Miami-Dade County Mayor's Initiative on Aging, winner of the Health and Human Services Award; Yuk-Ching Tse-Dinh, Ph.D., Professor and Founding Director of the Biomolecular Sciences Institute and the Translational Molecular Discoveries program, Florida International University, winner of the Science and Technology Award; Kerry Gruson, Co-founder and Co-chair, ThumbsUp International, winner of the Sports and Athletics Award; and Claudia Prado, National Director of Corporate Social Responsibility and Community Empowerment, Univision Communications Inc., winner of the Young Professional Award.
Tickets are $120 per person and can be purchased at inthecompanyofwomen2020.eventbrite.com.
For more information, contact Laura Morilla at 305-375-4967 or [email protected].