Chamber Gazette wins dotCOMM Platinum Award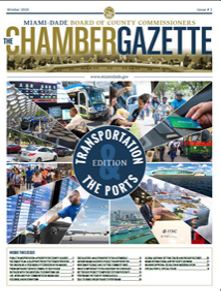 A recent edition of the Chamber Gazette
MIAMI-DADE – The Chamber Gazette, the Miami-Dade Board of County Commissioners' official quarterly newsletter, has won a 2020 dotComm Platinum Award in the eMagazine category. "I'm thrilled that the Chamber Gazette, which was revived under my chairwomanship after a hiatus of over 10 years, has been recognized with such a prestigious award.
I'm immensely proud of our media team and all of the County departments who worked so hard on this issue and making it accessible to all," said Miami-Dade County Commission Chairwoman Audrey M. Edmonson.
The Chamber Gazette, which is available in both print and online versions, is designed to bring residents the latest news from the County Commission and inform them about initiatives to improve the community and programs they can take advantage of. Each edition is dedicated to a specific issue of importance. Past issues have focused on the topics of housing, transportation and the coronavirus crisis. View recent editions at www.miamidade.gov/chambergazette/archives.page
The annual dotCOMM Awards are an international competition honoring excellence in web creativity and digital communication. The competition spotlights the role of creatives in the dynamic, constantly evolving web.