Commissioner Eileen Higgins launches Transportation Workshops for Seniors in the Greater Little Havana area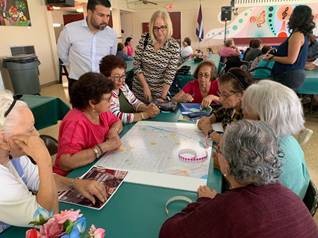 Commissioner Eileen Higgins discusses mobility plans with seniors in District 5. (Photo by: Francis Izquierdo)
MIAMI-DADE – At the Metropolitan Center in Little Havana, today Miami-Dade County Commissioner Eileen Higgins launched a series of Transportation Outreach Workshops to solicit input regarding transportation and mobility from seniors in County Commission District 5. Over 50 seniors attended the first of a series of workshops to discuss the mobility challenges they face daily and identify transit solutions they feel would best serve their needs.
"The needs of our seniors differs from those of our daily commuters. These residents take transit to the grocery store, to their doctors, to visit family members, or to go to church," said Commissioner Higgins. "I hope to use the information from these sessions to inform the Better Bus Project and ensure that the transit needs of Little Havana seniors are met."
The District 5 team worked with Urban Impact Lab (UIL), a local civic innovation firm, to identify and map all senior-specific facilities in the district and analyze transportation options. Both teams then collaborated with Live Healthy Little Havana and the Office of the Mayor's Initiative on Aging to facilitate focus groups in the community. Each group mapped out where they live, the places they go, and how they get around on weekdays and weekends. They also discussed technology, ridership programs, and new potential transit services.
The upcoming workshops will be held at the following Greater Little Havana area locations:
Vista Alegre Community Room, Monday, September 16 at 10:30 am
Victoria Residential Apartment Community Room, Monday, September 16 at 2:00 pm
José Martí Plaza Community Room, Tuesday, September 17 at 2:30 pm
La Palma Apartments Community Room, Monday, September 23 at 2:00 pm
Once all workshops are completed, UIL will interpret the data collected and identify possible transportation solutions based on the needs presented by the seniors.
For more information, please contact Francis Izquierdo, Communications Coordinator, at [email protected] or 305-375-5924.