County Commission approves LGBTQ Advisory Board sponsored by Commissioner Eileen Higgins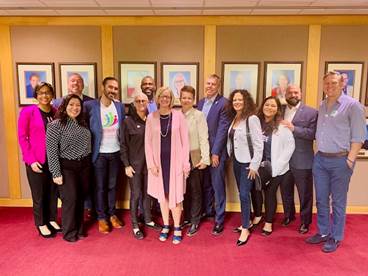 Residents and representatives from SAVE, Equality Florida, and the Pride Collective attended the Oct. 3 County Commission meeting to show support for the creation of an LGBTQ Advisory Board. (Photo by Rachel Cohen)
MIAMI-DADE – At its October 3, 2019 meeting, the Miami-Dade Board of County Commissioners approved the creation of an LGBTQ Advisory Board sponsored by Commissioner Eileen Higgins, District 5. The Advisory Board will serve to address quality of life issues and propose policy recommendations to address social, economic, cultural, and political problems facing the LGBTQ community.
"While progress has been made for the LGBTQ community, we know there is much work left to be done," said Commissioner Higgins. "This new board is a great way to have engaged residents advising the County on issues that are most pressing to our LGBTQ community. For Miami-Dade, it means a significant impact on economic development in our county."
Miami-Dade County continues to attract more than one million LGBTQ visitors each year as well as individuals, businesses and professionals seeking to relocate in the area. The Advisory Board will promote Miami-Dade County as a place where LGBTQ-friendly businesses, residents and visitors can come live, work, and be part of a diverse and inclusive community.
"This board will help promote our commitment to equality and send the message to all our LGBTQ residents that they are welcome and are an important part of this community – where everyone, no matter their sexual orientation, can feel at home," said Commissioner Higgins.
Each County Commissioner may appoint one person to the LGBTQ Advisory Board' and the County Mayor may appoint two members. Members must have an outstanding reputation for community pride, integrity, responsibility, and commitment to the LGBTQ community.