Commissioner Eileen Higgins testifies before the U.S. House Subcommittee on Aviation regarding the treatment of airport ground workers by airline subcontractors
MIAMI-DADE – On January 15, 2020, Miami-Dade County Commissioner Eileen Higgins, District 5, testified before the Subcommittee on Aviation of the House Committee on Transportation & Infrastructure on the treatment of airport ground workers in Washington, DC. Since early 2018, Commissioner Higgins has worked hand-in-hand with U.S. Representatives Donna Shalala (FL-27), Frederica Wilson (FL-24), and Debbie Mucarsel-Powell (FL-26), along with representatives of 32BJ SEIU, to shed light on the treatment of airport ground workers by airline subcontractors and demand action.
Titled "Oversight of Working Conditions for Airline Ground Workers," Commissioner Higgins was joined at the Aviation Subcommittee hearing by other witnesses such as Esteban Barrios on behalf of Service Employees International Union (SEIU) to describe the poor working conditions and first-hand account of the intimidation tactics employed by Eulen America, an airport subcontractor at many of our nation's airports.
"Companies that provide unsafe work conditions and operate under a culture of fear make worksites less safe and leave a moral stain on our country's airports. I'm glad that Congress has shined a light on the treatment of airport workers by unscrupulous companies," said Commissioner Higgins.
Last year, Commissioner Higgins joined U.S. Representatives Donna Shalala and Frederica Wilson at a Congressional Roundtable where several workers also shared their health and safety concerns and reiterated their stories of intimidation and fear of losing their jobs.
"I am glad that Commissioner Higgins came to Washington to testify on the treatment of airport ground workers. Our airport's successes are thanks to its workers – people who handle the baggage, clean the airplanes, and ensure that disabled passengers can get to their gates safely and promptly. We in Congress are demanding that airport and airline subcontractors improve their working conditions and treat their workers with the respect and dignity they deserve," said Congresswoman Donna Shalala.
Next week, Commissioner Higgins will be introducing legislation to implement a new County procurement process for airport ground services that will encourage companies who bid on these contracts to provide responsible working conditions. The companies will continue to be scored on their technical merit, but the legislation will require they also be scored on their employment conditions including wage rates, insurance benefits, health and safety protections, and, crucially, existing or prior notices of violation from regulatory agencies.
"The intent of my legislation is to reward companies who treat their employees with respect and decency and ensure that our airport continues to be a beacon of light for our County."
You can watch Commissioner Higgins' full testimony at www.bit.ly/2QVNSSy.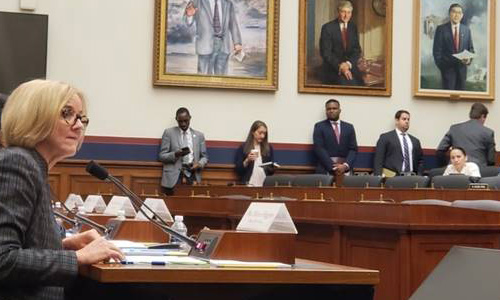 For more information, please contact Maggie Fernandez, Chief of Staff for Miami-Dade County District 5 Commissioner Eileen Higgins, at [email protected] or 786-251-7380.