Commissioner Eileen Higgins honored with the Complete Streets Champion Award at the 7th Annual Safe Streets Summit
MIAMI-DADE – Today, February 7, 2020, Miami-Dade County Commissioner Eileen Higgins, District 5, was selected to receive the Complete Streets Champion Award for Miami-Dade County at the Safe Streets Summit, an event that brings regional leaders in transportation and urban connectivity together. It was held this year in the city of Fort Lauderdale. The Complete Streets Champion award recognizes an individual who has been an exceptional leader and catalyst in advancing complete streets for residents throughout South Florida.
As a member of the Transportation Planning Organization (TPO) and Chair of the Urban Mobility Task Force, Commissioner Higgins was selected for her strong advocacy for better streets and networks in Miami-Dade, including her work to improve dangerous intersections, adding dedicated bike lanes, and ensuring that pedestrians have a safe and clean place to travel, not only in District 5 but also countywide. Examples of projects in Little Havana include the creation of safety routes to schools and parks, pedestrian priority zones, play streets, and more seating at bus stops with high ridership for older adults. In Miami Beach, she was recognized as a steadfast, action-oriented leader who has made the safety of pedestrians and bicyclists on local and state-owned streets a top priority.
"Living and working in Miami's urban core, I know first-hand the challenges faced by pedestrians and cyclists. That's why it is such an honor to receive this award and know that I am doing my part to ensure safer streets on some of the busiest main roads where families live," said Commissioner Higgins. "I look forward to continue to make impactful change with Safe Street Summit partners so that we can build upon our collective vision for safer streets, stronger communities, and a better life for all South Floridians for many years to come."
District 5 community partner Live Healthy Little Havana (LHLH) was also honored at the summit as the Complete Streets Community Award Winner in Miami-Dade County. LHLH is an initiative funded by the Health Foundation of South Florida that focuses on bringing the community together and making changes that improve the health of Little Havana. This recognition is awarded to a local organization that has done an outstanding job of engaging the community in planning for complete streets.
The Safe Streets Summit is a collaborative effort between the Miami-Dade TPO, the Broward Metropolitan Planning Organization, and the Palm Beach Transportation Planning Agency to provide a local yet regionally-connected approach to prioritizing and implementing Complete Streets throughout South Florida. The summit brings together national speakers, public officials, technical staff, and community partners to elevate efforts on how to design and implement safe and equitable transportation facilities for all modes of transportation.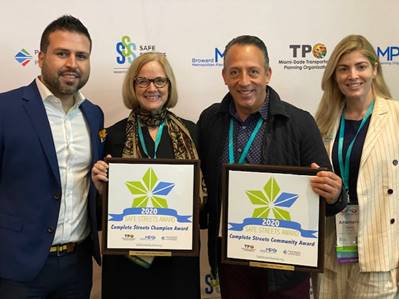 Commissioner Eileen Higgins is joined by Assistant Director of
Miami-Dade County Department of Transportation and Public Works
Carlos Cruz Casas, and Alejandro Diaz and Anamarie Ferreira de Melo
from Live Healthy Little Havana with their awards at the Safe Streets Summit in Fort Lauderdale.