Commissioner Eileen Higgins and Downtown Development Authority kick off Urban Core Complete Count Committee for Census 2020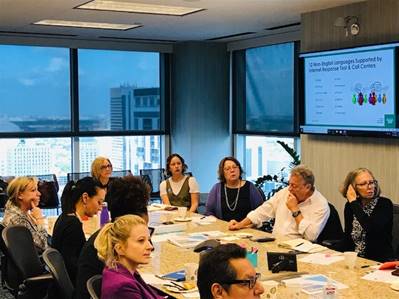 Commissioner Higgins and the Downtown Development Authority, joined by representatives from the Downtown Neighbors Alliance, Brickell Homeowners Association, Biscayne Neighborhood Association, and The Miami Foundation, at the first meeting of the Urban Core Complete Count Committee.
MIAMI-DADE – Miami-Dade County Commissioner Eileen Higgins and the Downtown Development Authority launched the Urban Core Complete Count Committee, on Monday, March 2 to bring businesses, property managers and homeowners associations together to ensure that all of our Downtown and Brickell residents are engaged and counted in the upcoming 2020 Census.
Residents in Brickell and Downtown live mostly in high-rises with security and restricted access. This makes them hard to reach and therefore hard to count. The Committee is focused on providing urban core residents up-to-date information on the Census survey, process and timeline. Outreach will include informational sessions in building lobbies and social rooms, as well as interactive events with local restaurants engaging millennials in the process.
"Our Brickell residents especially tend to be young, and this may be their first census, and they need to know it's one form per address," said Commissioner Higgins. "Think about all those recent college graduates living with roommates; one of them needs to take charge and get the Census filled out."
Additionally, District 5 is supporting local trusted partners in Little Havana to raise awareness among families about the benefits of being counted.
"During the last Census in 2010, children under 5 years old in Miami-Dade were undercounted," said Commissioner Higgins. "My office is working with community partners to engage with parents during regular touch points – such as pick-up from afterschool programs."
The Census helps the federal government allocate funding for various services, from public transit to parks and hospitals, for the next decade. Over $45 billion is on the line for Florida. The Census for the first time ever will be available online, as well as via phone, by mail, or in person.
The Urban Core Complete Count Committee serves as a local census ambassador group for Downtown and Brickell and plays an integral part in ensuring a complete and accurate count of the community.
For more information, please contact Rachel Cohen, District Manager for Miami-Dade County District 5 Commissioner Eileen Higgins, at [email protected] or 305-375-5924.