The Board of County Commissioners approves Commissioner Eileen Higgins' legislation urging the State of Florida to provide funding for the Bay of Pigs Brigade 2506 Museum
County Commissioners allocate nearly $80,000 in community-based funding to immediate improvements for Museum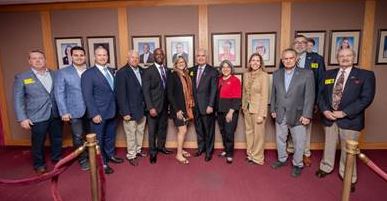 MIAMI-DADE – At today's Nov. 16 Board of County Commissioners meeting, legislation sponsored by Commissioner Eileen Higgins, District 5, was approved urging the Florida Legislature to provide funding for the Bay of Pigs Brigade 2506 Museum. In addition, an estimated $80,000 in community-based organization funding was allocated by Board members to support much needed, immediate improvements for Museum.
Located in the heart of District 5's Little Havana, the Museum serves not only as a respiratory of artifacts relating to the efforts of the 1,400 brave individuals to liberate the Cuban people from communist tyranny, but as a symbol of pursuing and defending the fundamental values of democracy, justice, individual liberties, and respect for human rights.
"This year marks the 60th anniversary of the Bay of Pigs Operation—60 years since hundreds of brave men showed immeasurable courage and determination, and risked their lives, to reestablish freedom and democracy for the people of Cuba." said Commissioner Higgins. "It's important for their stories to be shared for generations to come. That's how we can honor them best—by never forgetting."
The Assault Brigade consisted primarily of Cuban exiles in the US, including doctors, engineers, architects, musicians, actors, business owners, and more, who selflessly volunteered to free the Cuban people from tyranny. During the battle against the Cuban military, over 100 men lost their lives either in combat, attempting to escape, or during their captivity under inhumane conditions. More than 1,200 members of the Brigade were imprisoned and were subjected to harsh and inhumane treatment, with 1,113 members ultimately returning to the United States.
Over the past 60 years, Brigade 2506 members have made significant and valuable contributions to the U.S. and Miami-Dade County while never forgetting their beloved homeland. By now, many have now passed and are remembered at the Museum, which is dedicated to maintaining the strength and unity among the veterans of the Brigade 2506 and is used as a gathering place for all those who oppose communist tyranny throughout the Americas.
Florida State Senator Ana Maria Rodriguez and State Representative Brian Avila are the sponsors for the Senate and House appropriation bills, respectively.
"State funding is critical for the museum to continue its mission of preserving the history surrounding this operation and fighting against communism," said Commissioner Eileen Higgins.
For more information, please contact Francis Izquierdo, Communications Manager for Miami-Dade County Commissioner Eileen Higgins, at [email protected] or 305-375-5924.