Commissioner Higgins Distributes Over 1,000 Backpacks and Supplies to District 5 students for start of new school year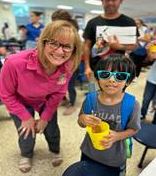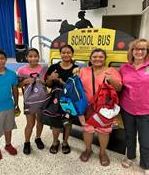 Left to Right: Commissioner Eileen Higgins poses for pictures with students and families who have received
backpacks and school supplies from the District 5 back-to-school distribution event.
(Photos by: The Office of Commissioner Eileen Higgins, District 5)
MIAMI-DADE – Commissioner Eileen Higgins, in partnership with Miami-Dade School Board Chair Mari Tere Rojas and School Board Member Lucia Baez-Geller, distributed over 1,000 backpacks with supplies to District 5 students in preparation for the 2023 school year. Together with partners such as ConnectFamilias, Share Your Heart, the Boys and Girls Club, and Nicklaus Children Hospital, three events were held in District 5.
"I am so proud to have hosted these Back-to-School Backpack and Supplies Giveaways for our District 5 students," said Commissioner Higgins. "I know that many families are struggling to make ends meet, and this is one way that we can help ensure that all of our students have the supplies they need to succeed in school."
The giveaways took place at two different locations throughout the district: Flamingo Park, 1200 Meridian Ave., Miami Beach, FL 33139 and Silver Bluff Elementary, 2609 SW 25th Ave., Miami, FL 33133. At each event, students were able to pick up a backpack filled with school supplies, including pencils, pens, notebooks, folders, and other essential items.
"With the new school year just around the corner, we are thrilled to witness the power of community coming together for the Back-to-School Backpack and School Supply Distribution. At ConnectFamilias, we firmly believe that every child deserves the opportunity to excel in their education, and this partnership with Commissioner Higgins, School Board Chair Mari Tere Rojas, Navarro, CVS Pharmacy, Neighbors4Neighbors, Miami Dade Public Library, and numerous other dedicated organizations, serves as a shining example of what can be achieved when we come together," said Betty Alonso, President and CEO of ConnectFamilias. "At ConnectFamilias we recognize that education is the foundation for a brighter future, and it is our collective responsibility to equip the next generation with the tools they need to thrive and succeed. The enthusiasm and spirit demonstrated by our partners and volunteers are truly commendable, and we are deeply grateful for their unwavering support," continued Betty Alonso.
These events could not have been possible without the support of our local organizations. Nicklaus Children's Hospital went above and beyond by offering an EKG clinic, while community champions Do the Right Thing and Share Your Heart provided breakfast for the students. CVS Pharmacy generously donated 100 backpacks and ConnectFamilias not only helped to finance and assemble the backpacks but also stood as a pillar of support throughout the entire process.
"Thank you to our principals and region personnel for working cohesively with my District team," said School Board Chair Rojas. "In addition, I am very appreciative of our external stakeholders, Commissioner Eileen Higgins and her wonderful team, as well as our community partners, for always putting our students first. Thank you to our parents for participating in this wonderful event. It is a win-win for the students."
The giveaways were a huge success, and hundreds of students were able to benefit. Commissioner Higgins, School Board Chair Rojas, and School Board Member Baez-Geller are proud to have been able to help out some families in need.