Commissioner Kevin Marino Cabrera joins Hialeah Mayor Esteban Bovo Jr. and Congressman Mario Diaz-Balart in the launch of office hours in the city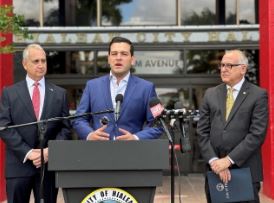 Commissioner Kevin Marino Cabrera joined Congressman Mario Diaz-Balart and Hialeah Mayor Esteban "Steve" Bovo as they announced the launch of their office hours at City Hall in Hialeah.
(Photo by: District 6/Miami-Dade County)
MIAMI-DADE – Commissioner Kevin Marino Cabrera, Hialeah Mayor Esteban "Steve" Bovo, Congressman Mario Diaz-Balart, and staff from the Office of Senator Marco Rubio announced the launch of office hours at City Hall in Hialeah. The space will provide constituents in the area with a convenient location to meet with staff and access important resources related to city, county, and federal issues.
"I am thrilled to have a presence here in the great City of Hialeah and help bring County government closer to the people. This will be a one-stop location for residents needing help with municipal, county, and federal issues," said Commissioner Cabrera.
"I want to thank Mayor Bovo for collaborating with our office and our federal partners to provide key services. His innovative thinking in providing an accessible location for residents is a testament to his commitment to the bettering our community," added Commissioner Cabrera.
Commissioner Cabrera's mobile office hours will provide constituent services every Wednesday from 9 a.m. to 4 p.m. at Hialeah City Hall, located at 501 Palm Ave., 4th Floor, Hialeah, FL 33010.
Commissioner Cabrera was elected to represent the residents of Miami-Dade County's District 6 on Nov. 8, 2022. District 6 includes the cities of Virginia Gardens, Miami Springs, and West Miami, and parts of the cities of Miami, Coral Gables, and Hialeah as well as sections of unincorporated Miami-Dade County.