Commissioner Suarez helps high school grads obtain apprenticeships with construction trade employers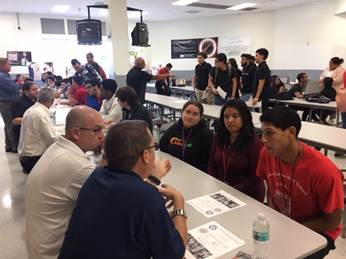 2018 apprenticeship program participants at Coral Gables Senior High
MIAMI – Participants in Miami-Dade County Commissioner Xavier L. Suarez's apprenticeship program will connect with potential employers in construction-related fields at an Apprenticeship Career Day this month.
For graduating high school student participants, the event will be a culmination of the Miami-Dade Youth Pre-Apprenticeship Career and Technical Training program, whose aim is get students apprenticed to high-demand trades where they can earn while they learn.
The program was launched in 2017 at four Miami-Dade high schools as a result of a partnership Commissioner Suarez facilitated with the Florida Department of Education, CareerSource South Florida, Miami-Dade County Public Schools and 13 trades.
Coral Gables, Miami Edison, Homestead and Miami Carol City high school students participate in a paid summer internship before the 11the grade and then complete 150 classroom training hours per year during their junior and senior years. Participants receive instruction from a certified teacher in their choice of among 13 trades – including bricklayer, carpentry, drywall finishing, electrician, elevator constructor, glazier, insulation worker, operating engineer, heating and air-conditioning, painting, pipe fitting, plumbing and sheet metal worker.
"There is a growing demand for skilled construction workers, so this apprenticeship program is exactly what we need to help our young people get jobs and grow our economy, so I'm looking forward to seeing this expand to all Miami-Dade high schools, and hopefully to school districts around the country," Commissioner Suarez said.
MEDIA PHOTO OPPORTUNITY (NOT OPEN TO THE PUBLIC): The Apprenticeship Career Day will take place on Friday, March 15 from 9 a.m. to 1 p.m. at the Air Conditioning, Refrigeration, Pipefitting Education Center (ARPEC), at 13201 NW 45th Ave., Opa-locka, FL 33054.