Commissioner Regalado and CIS University and International Studies Foundation announce Saint James Way cultural program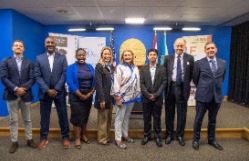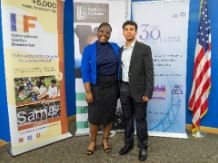 Left to Right: Executive director of CIS Alfonso Barral, Big Brothers Big Sisters of Miami President Gale S. Nelson, Saint James Way program and Big Brothers Big Sisters alumna Sabrina Joseph, Commissioner Raquel Regalado, CIS University and International Studies Foundation President Maria Diaz, Saint James Way program and Big Brothers Big Sisters of Miami alumnus Yoseph Mendez-Acuna, Counsel General of Spain Jaime Lacadena, and International Finance Bank Roberto Gatica pose for photos during the Saint James Way program announcement on March 22.
(Photos by: Godfrey Mead/Miami-Dade County)
MIAMI-DADE – On Wednesday, March 22, Commissioner Raquel Regalado, in collaboration with CIS University and International Studies Foundation (ISF), Big Brothers Big Sisters of Miami, International Finance Bank, and the Consulate General of Spain announced a new edition of the Saint James Way Program in Spain for Miami-Dade County students at the Stephen P. Clark Government Center, 111 NW 1st St., Miami FL 33128.
"It is an honor to support this initiative. I can't think of a better way to strengthen the ties between Spain and the United States than by bringing our young people together through this experience. I completed the Camino de Santiago when I was a girl, and this summer, my two kids, whom you know are both autistic, will also experience this journey, so that people understand that they, too, can participate in activities like this. Thank you to all our partners who assist in making this program possible, and I look forward to seeing you in Spain," said Commissioner Regalado.
The Saint James Way program offers underprivileged youth from the U.S. and Spain the chance to complete one of the most iconic pilgrimage routes in history known as the Camino de Santiago. The program promotes cross-cultural education and allows students from Miami-Dade County to immerse themselves in Spanish culture through a hands-on interdisciplinary learning experience.