Commissioner Levine Cava advocates for tropical fruit growers, Miami-Dade urges safeguards against importation of specialty fruits from Mexico into the U.S.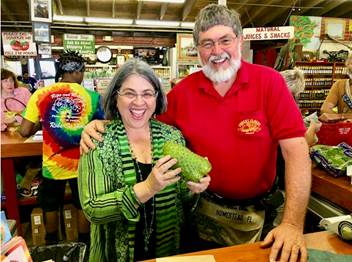 Commissioner Levine Cava shopping for guanabana and other tropical fruits at Robert is Here Fruit Stand in Redland.
MIAMI-DADE – In an effort to protect Miami-Dade's tropical fruit industry, the Board of County Commissioners today supported a measure urging the U.S. Department of Agriculture to stop the importation of specialty tropical fruits from Mexico.
The legislation, sponsored by Commissioner Levine Cava, raises objections to the importation of four tropical fruits from Mexico: mamey sapote, sapodilla, soursop/guanabana and mombin. These specific tropical fruits are currently being considered as new imports without adequate protections for the U.S. tropical fruit industry from pests and unfair trade. Lifting importation restrictions currently in place would drastically hurt the County's local farming economy and position as a major supplier of these fruits to the nation.
"Allowing poorly inspected and irradiated tropical fruit imports into the U.S. would be detrimental to Miami-Dade's tropical fruit industry, in commodities that are only grown here," said Commissioner Levine Cava. "We must protect our tropical fruit growers, our local farmers and our local economy."
Miami-Dade County is the number one producer in the U.S. of many tropical fruits. It is a $78 million industry, consisting of 10,300 acres of tropical fruits on nearly 1,500 farms. Most of that acreage is in avocado and mango, but with the continuing damage wrought by Laurel Wilt on the avocado industry, many farms are looking to specialty fruits such as mamey sapote to help them bounce back.
In addition, the importation of these specialty tropical fruits could bring a number of insect pests and diseases that could cause serious damage to local farms and the local tropical fruit industry. While the Department of Agriculture states that inspection of the fruits will occur at the port to prevent pest introduction, in fact very little of the fruit currently imported into the U.S is actually inspected for pests and disease.
"Florida agriculture is challenged with the pest and disease coming in through our ports, with less than 2 percent of the containers being inspected," said Dade County Farm Bureau Executive Director Jorge Abreu. "As our specialty crops continue to be attacked by imports, our farmers will not be able to compete against low quality standards."
Comments to the Department of Agriculture about the potential lifting of importation restrictions are due by July 1st.
Comments can be submitted online:
Mamey sapote: https://www.regulations.gov/docket?D=APHIS-2019-0011
Mombin: https://www.regulations.gov/docket?D=APHIS-2019-0012
Soursop/Guanabana: https://www.regulations.gov/docket?D=APHIS-2019-0013
Sapodilla: https://www.regulations.gov/docket?D=APHIS-2019-0014