County Commissioner Levine Cava works to protect farmlands from turning into trucking depots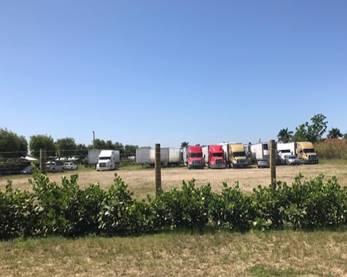 MIAMI-DADE – The Miami-Dade Board of County Commissioners on Oct. 29 passed legislation aimed at ending the rampant abuse of agricultural lands being turned into trucking depots.
The ordinance, sponsored by Commissioner Daniella Levine Cava, will help ensure agricultural properties in South Dade are not used for the commercial storage of vehicles that are unrelated to farming. The item is intended to end the trending problem of property owners renting parking spaces for multiple non-farming trucks, which is negatively impacting the farming industry and residents' quality of life.
Commissioner Levine Cava introduced the ordinance in response to an outcry from farmers and rural residents over the growing abuses of farmland by people looking to turn a quick buck at the expense of the farming industry. According to the Commissioner, "Some unscrupulous people are buying up our farmlands and leasing them as truck parking for anyone who's willing to pay. These illegal lots undercut legitimate businesses offering truck parking, and take important agricultural land out of production."
The legislation was drafted based on input from the County Agriculture Manager and Code Enforcement staff who have struggled to enforce the rampant abuses of agricultural lands being turned into trucking depots.