Commissioner Levine Cava leads effort to end roadside pet sales, works to protect consumers and pets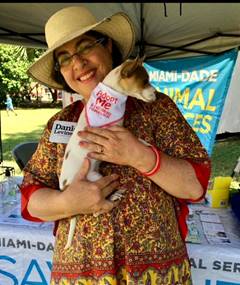 MIAMI-DADE – The Miami-Dade Board of County Commissioners on Nov. 19 passed a new law banning the sale of dogs and cats in public rights-of-way, particularly on the side of the road.
The ordinance, sponsored by Commissioner Daniella Levine Cava, is intended to protect consumers while also providing for the health and safety of pets. Animals sold on the side of the road are often unvaccinated, have not been to a vet, have not been microchipped, and have not been spayed or neutered.
"Dogs and cats being sold on the side of the road is a persistent problem in our county," said Commissioner Levine Cava. "Many of these pets are being sold by 'backyard breeders' who are not registered, who are often over-breeding, and who are not concerned about the health of our pets or the best interests of our consumers."
Animal breeding is regulated in Miami-Dade to help ensure that the pets sold are healthy and documented.
The Miami-Dade Animal Services Department supports the ordinance and has identified roadside dog and cat sales as a significant source of pets being surrendered to the animal shelter. The ordinance helps expand Animal Services' enforcement reach by empowering cities and county code enforcement and police officers to help prevent roadside pet sales.
Also noted was that roadside sales distract drivers and take up space in the rights-of-way that could be needed in an emergency situation. They also pose a threat to an animal's safety if it were to get loose and run into the road and oncoming traffic.
Violation of the ordinance carries a civil penalty of $500.