Miami-Dade County honors Farm Share founder Patricia Robbins Alger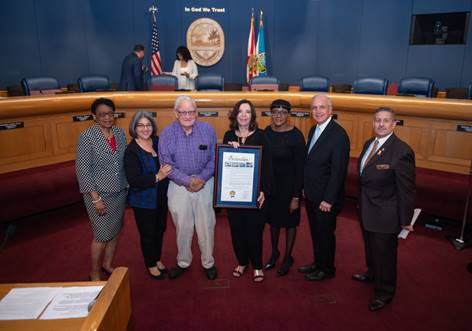 MIAMI-DADE – The Miami-Dade Board of County Commissioners on Nov. 19 honored Farm Share founder Patricia Robbins Alger for her nearly three decades of anti-hunger efforts in Miami-Dade and for creating one of the most successful food distribution nonprofits in Florida.
Commissioner Daniella Levine Cava sponsored the recognition ceremony with a proclamation declaring it "Patricia Robbins Alger Day" and emphasizing that her efforts started in South Dade. Robbins Alger was a resident of Palmetto Bay when she began Farm Share in 1991 in the farming communities of Redland, Homestead and Florida City.
"Our community honors Patricia Robbins Alger for her visionary leadership in creating and sustaining Farm Share – an organization that has provided life-sustaining food for millions of families in our county," said Commissioner Levine Cava. "Patricia had the innovative idea of working with our local farmers to use their surplus produce to help feed our residents in need – rather than dumping those extra fresh fruits and vegetables – and she had just the right amount of tenacity and community spirit to keep it running successfully for nearly 30 years."
Farm Share was established with an overarching goal to distribute food without fees of any kind to agencies such as soup kitchens, homeless shelters, food banks, churches and more. Its goal is that no Floridian goes hungry and no food goes to waste.
Robbins Alger retired earlier this year.