Miami-Dade County declares a Day of Remembrance honoring fallen Police Officer Jermaine Brown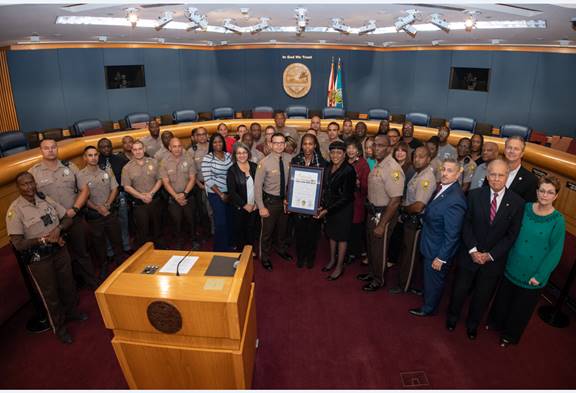 Miami-Dade Police Department Sergeant Jannene Brown receives proclamation honoring her husband Officer Jermaine Brown who died in the line of duty.

Miami-Dade – The Miami-Dade Board of County Commissioners today honored the memory of fallen Miami-Dade Police Officer Jermaine Brown and commemorated the one-year anniversary of his "End of Watch."
Officer Brown, a 15-year veteran of the Miami Dade Police Department, passed away on December 12, 2018, while in the line of duty at the age of 46. He got his first glimpse of police work as a Police Explorer in the South District, the same area where he served as a Police Officer since 2003.
While Officer Brown was involved in hundreds of felony apprehensions during his years in the Special Patrol Bureau, he is remembered most for his service in the South District's Neighborhood Resource Unit, where he worked on numerous community projects. He assisted homeless families, provided resources to citizens within the South District, attended community meetings and built personal relationships with citizens, business owners, and community stakeholders.
Officer Brown was devoted to the youth in the South Dade community and organized an annual fishing trip for at-risk kids on his own time, using his own boat. He served as a volunteer Youth Football Coach and helped organize the Police Department's summer camp for youth in West Perrine.
Commissioner Daniella Levine Cava sponsored the recognition ceremony with a proclamation declaring it a "Day of Remembrance" and emphasizing Officer Brown's professionalism, teamwork, and unwavering devotion to serve and protect the community. "We honor him, salute him and thank him for his tireless service to our community," said Commissioner Levine Cava.
Officer Brown is survived by his wife Miami-Dade Police Department Sergeant Jannene Brown, three children, many other family members, and his extended law enforcement family.