The Everglades Coalition honors Commissioner Levine Cava with prestigious Public Service Award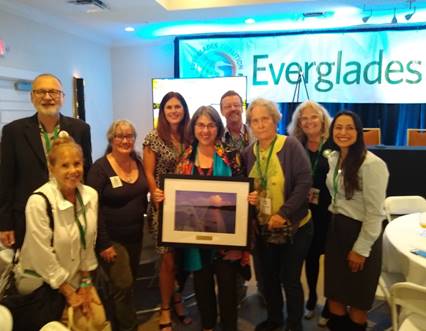 MIAMI-DADE – The Everglades Coalition honored Miami-Dade County Commissioner Daniella Levine Cava with their Public Service Award, recognizing her unwavering efforts to protect and restore the Everglades, during their 35th Annual Conference on Jan. 10 in Captiva.
The Public Service award was established in 1995 to honor James D. Webb, former Assistant Secretary of Fish, Wildlife, and Parks at the U.S. Department of the Interior under President Carter. Past recipients include such notable public servants as Florida Senate President Joe Negron (2018), Congressman Patrick Murphy (2015), U.S. Senator Bill Nelson (2013), and Congresswoman Carrie Meek (2003).
"I am honored and delighted to receive this magnificent award today," said Commissioner Levine Cava. "The health of our Everglades ecosystem is critical to our clean water supply as well as our quality of life and a strong economy. I am proud to stand alongside the many smart, passionate and determined conservation and environmental partners that make up the Everglades Coalition. Together, we must continue the critical work, because our clean water is our health, our economy, our quality of life, our survival."
The Public Service Award is given to an outstanding elected, appointed, or agency professional who has gone above and beyond the call of duty to advance Everglades restoration. Caroline McLaughlin, Coalition member and an associate director with the National Parks Conservation Association, presented the award stating, "Known as the 'Water Warrior,' Commissioner Levine Cava has been a longtime advocate for Everglades restoration. Specifically, she has been a huge champion for the protection of Biscayne National Park and the advancement of the Biscayne Bay Coastal Wetlands project. Largely because of the Commissioner's efforts, we expect to see planning for the second phase of the project to advance – a huge victory for Biscayne."
McLaughlin also noted that Commissioner Levine Cava has consistently voted against special interests that would put the Everglades and Biscayne Bay at risk, such as extending State Road 836 outside of the urban development boundary and building a mega-mall near the edge of the Everglades.
About the Everglades Coalition:
The Everglades Coalition is an alliance of more than sixty local, state and national conservation and environmental organizations dedicated to full restoration of the Greater Everglades Ecosystem, from the Kissimmee Chain of Lakes into Lake Okeechobee and to the estuaries, through the River of Grass, out to Florida Bay and the Keys. The Coalition works in the public arena to inform decision makers on the collective view of the conservation community regarding the greater Everglades ecosystem. Some of the tools used by the Coalition include policy papers, comparisons of proposed policy decisions focused on sound science, and public comments on critical aspects of restoration.