Commissioner Levine Cava announces employee paid leave legislation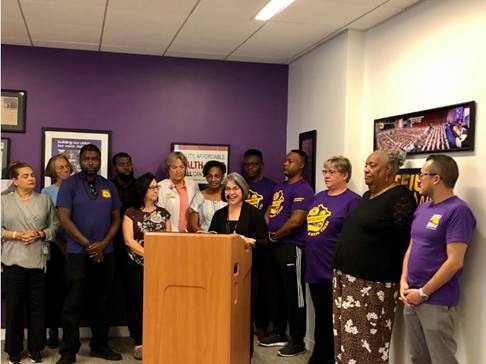 MIAMI-DADE – County Commissioner Daniella Levine Cava today announced landmark legislation that would ensure working families are provided earned paid leave and has the potential to improve the lives of thousands of workers throughout Miami-Dade County.
The proposed bill would guarantee that employees of businesses who do work with the County would receive paid sick and paid family leave. While County employees currently earn paid leave, many contracted employees working along their sides and performing similar functions do not receive paid leave.
"All hardworking employees deserve to have time to take care of their children, their aging parents, and themselves without the risk of losing a paycheck or their job," said Commissioner Levine Cava. "This policy would improve the lives of many of our workers. It is a moral issue and a family issue. This is about upholding the dignity of work."
Commissioner Levine Cava was joined by the Families at Work Coalition – a group of faith-based leaders, labor unions, women's organizations and nonprofits that support effective policies for working families. Also present were workers to provide their testimonials and explain the need for paid leave policies.
"I was injured on the job, hurt my foot, but still had to go to work," said Roberson Pierre who works as a security officer at Miami International Airport on contract with Allied Universal. "I have two kids and if my family is sick, I have no choice but to show up or not get paid. It is not fair."
Healthcare advocates wholeheartedly support the legislation noting it is a public health issue when employees go to work sick because they cannot afford to take off any days without pay.
President of SEIU Local 1991 Martha Baker, who represents the nurses and staff at Jackson Hospital, said "There's no economic justice without healthcare justice. It's a shame that in the richest country on Earth that some folks don't have healthcare or lose money or their job if they are sick. We need to change that."
The legislation would apply to any county contractor who has 15 or more employees and is awarded a contract valued in excess of $100,000. Commissioner Cava will introduce it at the Board of County Commissioners meeting on January 22.