South Dade Trail Secures $3 Million in Additional Funding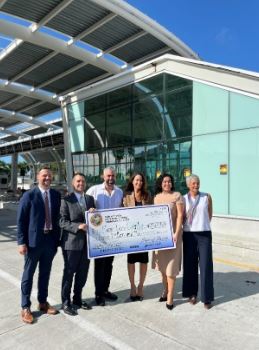 Left to Right: Deputy Director of DTPW Jose Enrique Cueto, Clerk of Courts and Comptroller Juan Fernandez-Barquin, Vice Chairman Anthony Rodriguez, Commissioner Danielle Cohen Higgins, Senator Alexis Calatayud, and Chief, Transportation Enhancement Irene Hegedus (Photo by: District 8/Miami-Dade County)
MIAMI-DADE – This morning, Commissioner Danielle Cohen Higgins attended a check presentation by Senator Alexis Calatayud, for an additional $3 million secured for the South Dade Trail during the 2023 Florida Legislative Session. This funding represents a significant milestone in the ongoing efforts to bolster Miami-Dade County's transportation infrastructure, promoting active lifestyles and sustainable transportation solutions.
The check presentation event took place at the Bus Rapid Transit (BRT) station, situated opposite the Palmetto Golf Course and the South Dade Trail. In attendance were Commissioner Cohen Higgins, Vice Chairman Anthony Rodriguez, Senator Alexis Calatayud, Clerk of Courts and Comptroller Juan Fernandez-Barquin, and a representative from Speaker Designate Daniel Perez office, all of whom played pivotal roles in securing the appropriations for this project in their respective chambers.
The South Dade Trail, a visionary 22-mile trail that will run parallel to the new Bus Rapid Transit (BRT) system in Miami-Dade County, is poised to become a vital addition to the county's transportation network. The dedicated bike and walk lanes will interconnect numerous municipalities, offering residents and visitors an eco-friendly and multimodal means of transportation. The trail's implementation aims to alleviate congestion, promote active living, and contribute to a greener future for Miami-Dade County.
Commissioner Cohen Higgins expressed her enthusiasm for the project, stating, "This funding brings South Dade one step closer to obtaining an aesthetic, safe, and functional trail to utilize for commuting, recreating, and exercise, much like the residents' other areas of our country enjoy."
Commissioner Cohen Higgins extends her gratitude to the Miami-Dade Delegation for their support in advocating for this vital project for South Dade and District 8. She specifically acknowledges former Representative Juan Fernandez-Barquin and Senator Alexis Calatayud for sponsoring the $3 million appropriation that significantly contributes to the project's realization. Additionally, she recognizes Mayor Daniella Levine Cava for her instrumental additional $3 million county match bringing the total to $6 million.
Furthermore, Commissioner Cohen Higgins would like to express her appreciation to Vice Chairman Anthony Rodriguez, Senator Ana Maria Rodriguez, and Speaker Designate Daniel Perez for their previous and continued support, underscoring the collaborative efforts to enhance Miami-Dade County's transportation network.