Miami-Dade County Community Based Organizations continue to make a positive impact in the lives of youth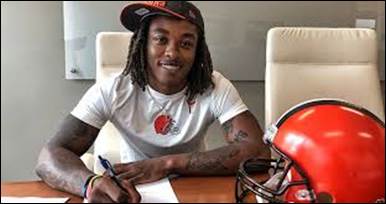 (Richmond Giants Standout Sheldrick Redwine pictured above, drafted to the Cleveland Browns)
MIAMI-DADE – On April 27, 2019, Miami's own Sheldrick Redwine was drafted by the Cleveland Browns in the fourth round of the NFL Draft. The Miami Hurricane standout began playing youth football for the Richmond-Perrine Optimist Club - Richmond Giants on Sgt. Joseph Delancy Park. He now has an opportunity that could change his life and the life of his family for generations to come.
While this is a story that we can all celebrate, he is hardly the first to go from Little League to the Big Leagues with early support and encouragement from Community Based Organizations. In November, the Greater Miami – S. Florida Pop Warner League will host their annual Sean Taylor Classic, which is hailed as the "Super Bowl" for youth football in Miami-Dade County. Named in honor of the Washington Redskins NFL star who lost his life tragically during a home invasion, Taylor was a star in the Pop Warner League, and that star was polished as a National Champion with the Miami Hurricanes and NFL Pro Bowl Safety.
The Richmond-Perrine Optimist Club is a private non-profit organization that has served the youth, the poor, the elderly, the unemployed and the disadvantaged in South Miami-Dade County for over 40 years.
"These organizations provide services in areas that many times are economically distressed and underserved, but the youth are rich with talent and energy," said Miami-Dade County Commissioner Dennis C. Moss, who is the former Executive Director of the Richmond-Perrine Optimist Club and founder of Youth Bands of America. "Community Based Organizations have a long history of recognizing and fostering that talent, whether it be on the field or in the classroom."
Miami-Dade County adopted funding to Community Based Organizations for fiscal year 2017-18 totaling over $36,000,000. These organizations respond to service priorities including Children and Adults with Disabilities, Immigrants and New Entrants, Criminal Justice and Workforce Development for Special Populations.
"On the County level, we do the best that we can to reach the entire community," said Commissioner Moss. "This is just one example of how CBOs on the ground level can make a positive impact and in many cases change the lives of our youth for the better."