Youth Bands of America opens for first day of Summer Band Camp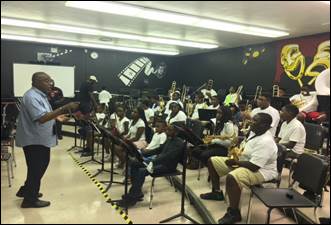 Dr. Julian White giving instruction during the first days of Youth Bands of America Summer Band Camp.
MIAMI – Recently parents and students arrived at Richmond Middle School for the first day of the Youth Bands of America Summer Band Camp. Summer Break is a great time for students to visit with family and friends or pick up a new hobby. A good Summer Camp program provides the opportunity to do both.
The Youth Bands of America FREE Summer Band Camp is made possible thanks to the collaborative efforts of Miami-Dade County Commissioner Dennis C. Moss, the Richmond Perrine Optimist Club, the Greater Goulds Optimist Club and The Children's Trust. This group enlisted the services of retired Florida A&M University Marching Band Director Dr. Julian White as Supervising Consultant.
"I was a member of the FAMU Marching 100," said Anetra Chandler, mother of first-year band camp participants Ronald and Ryan. "I know the value that a band program can bring to children. I hope that they learn comradery and develop lasting relationships and a love for music."
Now in its third year, Youth Bands of America will once again give camp goers the opportunity to learn to play instruments and marching band techniques under the instruction of some of the most accomplished musicians in the nation.
"It's important that we keep music in our community," said Band Camp instructor Chad Norton. "Every year, we want to enhance the program. I'm excited to see kids return so that we can continue to add components."
Deborah Bradford and Cindy Hill-Collins were among the first to have kids sign up for the summer program in 2017 and have seen the results. "They come in very shy and by the end they are knowledgeable, confident and know how to play an instrument," said Bradford. That sentiment was shared by Hill-Collins who said that her son and nephew have improved tremendously. "It's a wonderful program," Hill-Collins said. "The children work together well and I think it's a very good experience for anyone who may be interested in music."
The Summer Band Camp will run through August 9, 2019. Classes run from 8 a.m. to 4 p.m. and are held at Richmond Heights Middle School, 15015 SW 103rd Ave., Miami, FL. For more information, call the Richmond Perrine Optimist Club at 305-233-9325 or the Greater Goulds Optimist Club at 786-380-7716.