Commissioner McGhee converts district office into COVID-19 vaccine registration site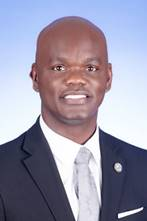 MIAMI-DADE – Commissioner Kionne L. McGhee fights for residents without Internet access to register for COVID-19 vaccination.
Currently, registration for the new vaccine is by Internet only. In order to serve constituents without Internet access, Commissioner McGhee's office will serve as a registration site for those who do not have access to a computer or Wi-Fi service.
"I want to make sure that all my constituents who are unable to register online can receive this life-saving vaccine. I have converted my office into a registration site, which will be available to all in need," Commissioner McGhee said.
For more information please call: 305-234-4938
WHERE: 10710 SW 211th Street Suite 206, Miami Florida 33189
WHEN: 01/05/21- until further notice from 12pm to 4pm
WHAT: COVID-19 Vaccine Registration