Commissioner Kionne L. McGhee Advances Resolution Investigating Feasibility of Raising Save Our Seniors Homeowners' Relief Fund payments
Commissioner McGhee's resolution advances to the Board of County Commissioners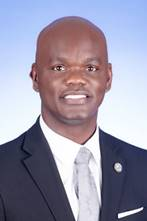 MIAMI, FLORIDA – On Feb. 11, Commissioner Kionne McGhee advanced a Resolution through the Miami-Dade Public Housing and Community Services Committee (PHCSC), which investigates the feasibility of increasing the yearly payments made from the Save Our Seniors Homeowners' Relief Fund. The Resolution requires the County Mayor to study the likelihood of being able to successfully increase the yearly payments and provide a report to the Board of County Commissioners within 60 days regarding the feasibility of the increase.
"When it comes to our senior citizens, easing their burden during the COVID-19 pandemic has to be our top priority. This resolution would investigate increasing relief payments to households receiving the senior exemption. We must help protect our valued senior population, which is particularly vulnerable at this time. The Committee's approval of this resolution is progress towards getting us one step closer to obtaining necessary help for our senior citizen homeowners in our County," said Commissioner McGhee.
Key provisions of the legislation include:
Examination of Feasibility of Increasing the Yearly Payments: Senior citizens have been severely impacted during the COVID-19 pandemic. Approximately 27,201 seniors aged 65 and older, with an average property tax burden of $950 in 2020, stand to benefit from this resolution if the feasibility study provides a recommendation to increase.
• Requiring a Report from the County Mayor: The County Mayor will be required to proceed with the directive and report back to the Board within 60 days, so that the Board can make a swift decision on obtaining approval of the increase of yearly payments made from the Save Our Seniors Homeowners' Relief Fund.
Moving forward, Commissioner McGhee will work to get the Resolution passed before the full Board. http://www.miamidade.gov/govaction/legistarfiles/Matters/Y2021/210081.pdf