Commissioner McGhee tackles unemployment with job training partnership between Miami-Dade and Microsoft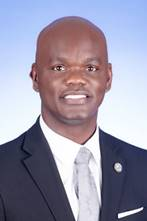 MIAMI-DADE – Commissioner Kionne L. McGhee is fighting unemployment by backing the Miami-Dade County's new partnership with Microsoft that will give residents some pivotal digital-skills training to boost their employability.
The Accelerate Miami-Dade County program will empower residents with training that lets them seize future employment. "Through this program, residents will receive the digital skills they need to stay competitive. It will accelerate Miami-Dade's economic recovery from the pandemic and address the needs of underserved communities," Commissioner McGhee said.
In addition to teaming up with Miami-Dade, Microsoft has offered the program in Atlanta, Texas, and New York.
Under an agreement, the County will use staff and resources to offer public events, provide leadership, guidance, and direction in the Accelerate Miami-Dade County program's development and execution. In addition, participants will benefit from job opportunities through corporate partners and at Microsoft, via internships, apprenticeships, or full-time employment.