Commissioner McGhee recognizes March 22 as National Agricultural Day in Miami-Dade County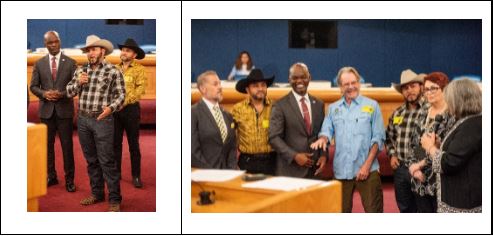 Commissioner Kionne L. McGhee announced that March 22 will be recognized as National Agricultural Day in Miami-Dade County. Two local farmers, Pedro Sifuentes and Mick Gnaegy, were recognized at the special presentation. (Photos by: Godfrey Mead/Miami-Dade County)
MIAMI-DADE – County Commissioner Kionne L. McGhee held a special presentation at the Board of County Commissioners meeting on Tuesday, March 15, announcing that March 22 will be recognized as National Agricultural Day in Miami-Dade County.
"Today, we're discussing National Agricultural Day in Miami-Dade County. We have the highest total farm payroll in the State of Florida, with a payroll of approximately $187 million dollars. Since 1973, we've been celebrating National Agricultural Day. Now, we're going to make sure it's proclaimed here in Miami-Dade County," said Commissioner McGhee.
Pedro Sifuentes, of Sifuentes Farms, and Mick Gnaegy, of Mix'd Greens, Inc., were recognized at the presentation as two farmers in Miami-Dade County who have made significant contributions to the farming industry.
Miami-Dade County is the number one producer in Florida of many crops, including sweet potatoes, okra, and avocadoes. The County is the number two producer in Florida of sweet corn and squash.