Commissioner McGhee recognizes Be Strong International Community Leadership Training Program graduates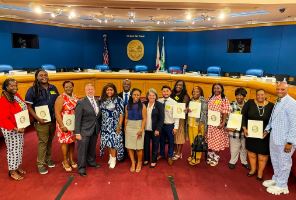 Commissioner Kionne L. McGhee held a special presentation recognizing graduates from a recent Community Leadership Training Program administered by Be Strong International at the Board of County Commissioners meeting on Wednesday, June 1. (Photo by: Miami-Dade County)
MIAMI-DADE – At the Board of County Commissioners meeting on Wednesday, June 1, Commissioner Kionne L. McGhee held a special presentation recognizing graduates from Be Strong International's Community Leadership Training Program. The graduates were presented with certificates at the meeting.
"It is our privilege to recognize Be Strong International. They were able to create a program through their organization to help bring people from various nonprofits together. The whole objective was to understand empathy in our communities, understand the dialogues, and understand the importance of the roles that we all play in this thing called life, and to help push the community forward. The individuals who went through this program received the proper training and a toolkit to help bridge the gaps and help our community overall," said Commissioner McGhee.
Twenty-six nonprofits participated in the Community Leadership Training Program. Be Strong International is celebrating 30 years of nonprofit work within our community.